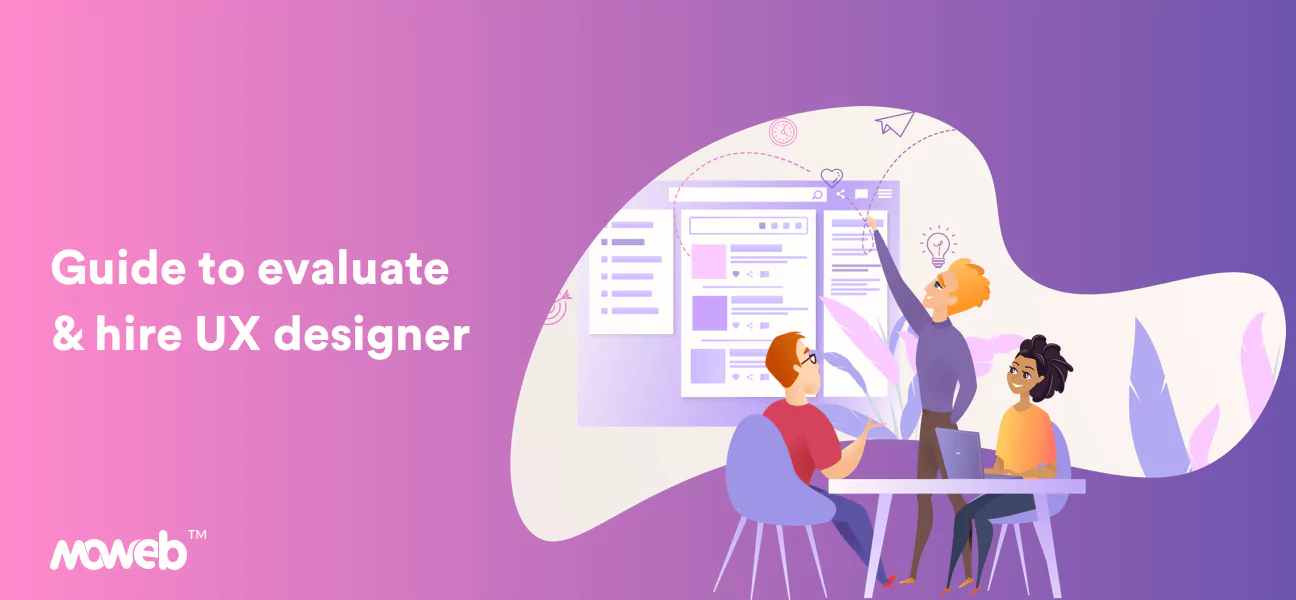 Anyone who has undergone the process of finding, evaluating, understanding, and hiring a UX designer will tell you that it's not as easy as it seems. Just finding a UX designer is not an end. You need to evaluate them against your structured criteria and make sure that the candidate is convinced to join your UI UX design company within your offered payroll.
So, what's the way out?
The field of UX design is still young. With growing time, practitioners have cropped up from the neighboring area. A designer background candidate may have roots in journalism, art, mobile development, engineering, or cognitive designing. You may find a designer who can illustrate your thoughts with ease while the other may barely figure out something. But both are acclaimed as competent UX designers. A similar difference is observed in the area of skills.
This guide will give you a walkdown about how to identify and hire the perfect designer that matches your business requirements within an optimized budget.
How Would You Hire A UX Designer: Freelancer, Agency, or In-house?
Since UX design plays a crucial role for any business, they're often troubled when it comes to hiring a UX designer for a company. That's because more than 10K+ UX designers have registered themselves on online portals like LinkedIn that work as a freelancer or as part of any UX agency or helping businesses with their UX design services as in-house employees.
Choosing anyone out of three is quite a brain-teaser. However, we will make it easy for you. Let's gauge these options and find the best one as per your requirement.
Hire a freelancer
The hiring of a freelancer UX designer can prove to be a good option if you're looking for skills and expertise that aren't limited to a particular boundary. Let's have a look at some positive and negative aspects of hiring freelance designers.
Pros:
Cost-saving
As compared to a full-time employee, hiring a freelance UX designer is a cost-effective option. That means, pay only for those hours they work. If in some months no upgrades or new changes are needed, no invoice needs to pay.
Access to skilled remote skills
Hiring a freelance UX designer doesn't limit you to a regional boundary. If you're a USA-based startup, you can still hire UX resources from India. It gives you exposure to a large pool of talent at a global level.
Access to the specialized skillset
Though you might have an in-house designer, if you're looking for a particular skill-set for a shorter duration, expanding your team with a freelance UX designer is a smart option.
Cons:
High Reliability
Though the majority of the freelancers are quick to start with your project, you can sometimes have a bad experience with them. They might go unresponsive, lack quality standards, or be delayed in work.
Communication barrier
The difference in time zone and physical presence are the biggest hindrances to smooth communication. Though tools like Slack, Basecamp, and Trello could make things easy, you might face communication issues.
Getting Tied up with Agency
If you're ready to invest more budget in the company's success and seek quality work with the utmost professionalism, you should hire a UX agency.
Pros:
High professionalism
The UI/UX design agencies are highly professional since they are managed by design experts having years of experience. It makes them familiar with the inside and outs of the UX designs. Since they care about their reputation much, they'd never compromise on work quality.
Reliable, on-time
If you're looking for on-time submission with channelized communication, a UX design agency is your pick. A dedicated project manager is assigned to you to take care of your business needs. It reduces your headache to manage and streamline the project.
Cons:
Significant Cost/ Increase in Overall Budget: Since hiring a UX agency seems to be a viable option, be prepared to go out of your budget. These agencies work with a systematic approach that requires in-depth experience and understanding of what your in-house team members might lack.
Hire an In-house Designer
It is one of the most convenient and conventional paths of hiring.
Pros:
Product experience
When you have an in-house designer, they solely work for your product. It makes them more familiar with your product, audience, and end-user base. They're more likely to get acquainted with your requirement in a quick way as compared to freelancers.
Long-term value
Since designing is a long-term task, frequent upgrades and changes are needed. Hiring an in-house designer can help you with long-term expertise as and when required.
Cons:
Lack of skill up-gradation: It is one of the significant drawbacks. Though they might be good at user research, landing page creation is not their cup of tea. Alternatively, they might be good with interactive designing but cannot help in content strategy.
Where Can You Find the Best UX Designers?
Below is how you can find some of the amazing designers:
Targeted outreach
It is one of the best ways to evaluate and find good designers, especially if you have a team that has already worked with them. Targeted outreach means you need to go out and contact the prospective designers suitable for your projects. Just sit down with your team and pen down a few names, and start reaching them. If they do not seal the deal, ask them for referrals having similar experience and expertise with some bonus amount.
Online UX design communities
There are plenty of online UX design communities where the designers can show off their portfolio and expertise. You can find and hire skilled designers for your startup globally, browse endless designs, and even post job requirements. These communities are the best place to visually gauge the screens. Dribble, Behance, Coroflot, etc. are some of the prominent online UX communities.
UX Job Boards
Though you can post your UX jobs on any search engine, it is advisable to post the job in places that specialized in holding UX design talents. Some of the ideal job boards to find UX designers are:
* LinkedIn
* Toptal
* Designer Hangout
* Authentic Jobs
* Just UX Jobs
What Things Do You Need to Know Before You Hire Any UX Designer?
When you're looking for the right UX designers, companies often make some common mistakes that end up blowing up in their faces. Make sure to avoid the below mistake while hiring a UX designer:
Merging separate roles into one
Judging a UX portfolio based on quantity over quality
Expecting a faster turnaround time
Ignoring the highly competitive market.
Some of the Most Essential UX Design Interview Questions You Shouldn't Forget To Ask
Did you solve an unseen problem in the overall design that enhanced the product user experience?
How do you understand the vision of the product and display it visually on screen?
What in accordance with you is an ideal working environment?
What UX tools do you use to create designs?
What factors do you keep in mind while designing screens?
Conclusion:
Finding, evaluating, and hiring the best UX designer following the latest user experience design principles is not a piece of cake anymore. There's no denial in that, but with the right approach, you can find and hire the best designers for your mobile UX design projects. All you need to do is identify your requirements, gauge the surrounding factors, and evaluate the candidate considering the best alternative for you and, that's it! You're a step closer to hiring the best UX web designer for your company.
We hope the above guide will satisfy all your queries to find and hire a UX designer. Did we miss out on anything too important in this guide? We'd love to add them to the next version of the guide. Feel free to email us now.