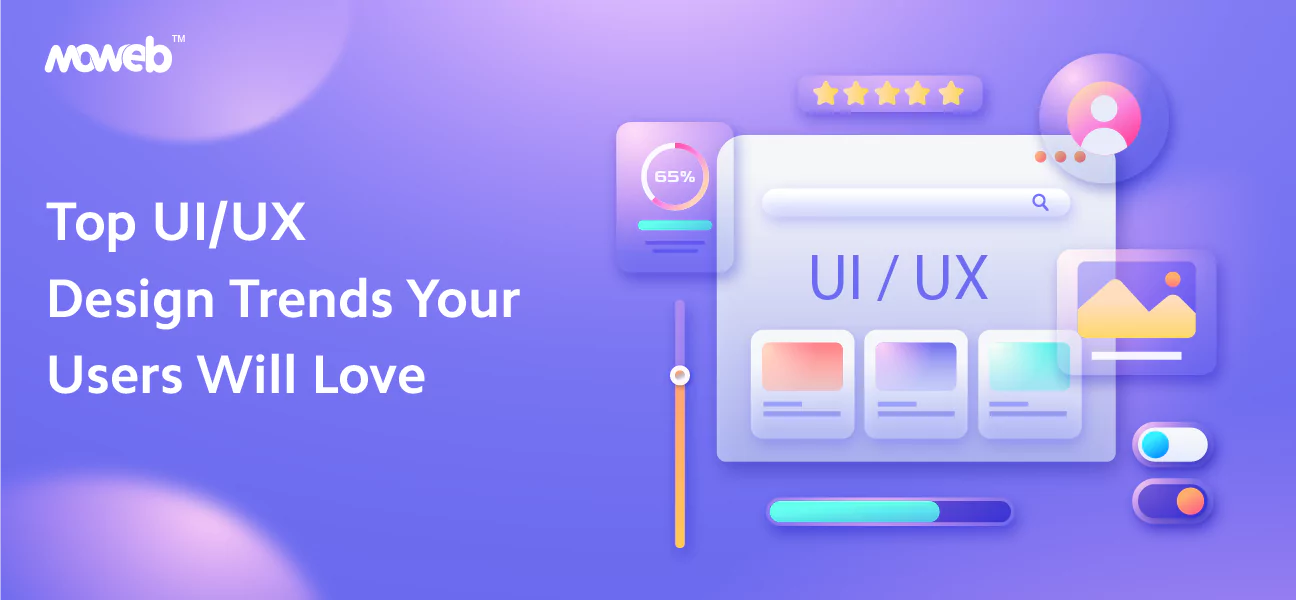 The vast majority of first impressions that apps create are mostly created by the design. There are several instances where the most useful website or mobile app fails to attract any audience just because of the design shortcomings. This is why designing the User Interface (UI) and User Experience (UX) to perfection is so important for an app project. UI/UX designers must understand the pitfalls, best practices, and design trends.
On the other hand, UI/UX design trends continue to evolve and bring new perspectives. The user interface and user experience design trends never fail to amuse us with something unprecedented, exceptional, and unique. No wonder, in 2023 we have encountered several such new design trends in the web and mobile app design landscape.
Considering the latest trends in UX and UI design in 2023 that are going to dominate app and web design in the years ahead, here we are going to explain some of these leading design trends.
The dark mode by default
Dark mode even before was launched officially by Apple and Google for their respective platforms, was hugely popular. Many flagship devices for years are allowing users to opt for dark mode. Now Dark Mode has become official across both iOS and Android platforms and too many apps are preferring to use this mode by default. No wonder using dark mode by default has now become one of the staple UI design trends.
Dark Mode as one of the latest UI design trends has risen to popularity mainly for saving battery life. Soon it was embraced as a distinct design attribute to shape the look and feel of the app. In the app or web design, the Dark Mode helps users to read the text easily besides making other design elements appear more crisp, prominent, and eye-catchy. But to do enough justice to this design trend, it is important to choose your color palette wisely. You can also allow users to change the level of darkness as per their viewing comfort.
Minimalist design
Minimalism or "less is more", whatever way you want to express the design philosophy embraced by web and app projects, is going to remain a mainstay trend for web and app design in the years to come. It is not a new UI/UX trend at all. It has been around for quite some time and is going to remain dominant in the future as well.
The basic logic behind this design trend is to adapt to the low attention span of the users. Since users, these days are extremely impatient and prefer to scan an interface to get information, a simple interface allowing effortless interactions and a view of content has become crucial. Minimalism refers to the principle of sticking to the basics of UI and UX elements and preventing overdoing the design elements.
The goal of minimalism in design is to reduce the cognitive load to a minimum level while maintaining easy and smooth interactions. Since users these days are flooded with information, minimalist design is key to engaging users quickly.
The emergence of Voice UI
Among the new trends in UX design, both voice search and voice interactions continue to rise in popularity. This is mainly because of the ease of accessing the content they offer. No wonder, from Google search to YouTube to all other content platforms have now embraced Voice Search and voice-enabled interactions.
Voice interactions have been particularly popularised through smart mobile assistants, voice-enabled chatbots, and smart speaker systems. As intelligent chatbots and smart assistants have become part and parcel of most digital interfaces, voice search and voice interactions will enjoy more traction in the years to come.
Artwork in UI graphics
The entire web and app design world is flooded with visuals and users are already overloaded with graphic information. Naturally, for designers, it became really difficult to hook the users easily. This is where the use of artwork in graphic interfaces became extremely important.
Using hand-drawn illustrations has become one of the major UI/UX design trends in 2023 and it is going to remain a mainstay in the scheme of things for designers in the future as well. The funny or intuitive or suggestive artwork in graphic UI can do wonders in engaging the users instantly.
Microinteractions will be dominant
Microinteractions that subtly enhance the user experience without creating any visual overload have become one of the popular UX design trends in recent years. The trend is going to play a crucial role in optimizing design for user engagement in the future years as well.
The use of small animations and graphic icons like a loading bar or a small animated figure informing users about a background process will continue to feature widely across web and app interfaces.
UX Writing
Using fluffy and self-obsessed words in the service page contents does not add too much value for the users anymore. Instead, it has become the standard practice to use precise and meaningful words and expressions that perfectly complement the design attributes. In the web and app design world, we call this UX writing.
UX writing is going to be one of the dominant and latest UX trends to play a crucial role in creating a robust first impression and engaging users. In the years to come, most businesses catering services and products to customers will find UX writing a close ally for their design scene scheme.
Some of the key ways designers can help the UX design stand out include the following.
Always write precise, crisp, short, and with a definite purpose.
Content that helps users to proceed in a step-by-step manner.
Avoid generalization and instead focus on addressing specific user goals.
Consider text length that perfectly fits into the design layout.
Make use of a variation of typography and font size to complement the design goal.
Funny and unconventional typography
People these days mostly scan documents instead of reading them minutely from start to finish. This is why grabbing their attention quickly is of extreme importance. People being overloaded by information often find it easy to associate a website or an app with its look and feel. This is why using funny and unconventional typefaces has become one of the popular UI/UX trends to hook users easily and make them remember the brand.
Although using crazy typography can easily push user engagement and traction, entirely reinventing the wheel is not recommended at all. When experimenting with typefaces for creating a fresh and entertaining look, it is important to make a balance between the established design conventions and experiments.
Using True-to-life Textures
It is now more than a decade since flat UI design is dominating the web and app world. The simplicity, ease of use, and smooth access to content are some of the key reasons behind the popularity of the flat design. But when everyone embraced flat design as the basic design principle, some apps started using textures and gradients to stand out from the competition.
This is how using true-to-life textures has become a dominant UI trend in recent times. The use of realistic texture can help user engagement when used diligently with a flat background. In this way, the simplicity of the flat UI is still there, while the textures used in key visual elements invoke depth and shed focus meaningfully.
Unique design layout
Symmetric UI design layouts have already been used extensively across digital interfaces of all types. But such regular and recurring layouts now have lost their appeal simply because of being too commonplace. Now, unsystematic or unconventional design layout has become more popular.
Asymmetry in the layout is the new in-thing for web and app design. Instead of completely experimenting with design layouts, one can just tweak the symmetry a little and make place for asymmetry.
Using Graphics in Images
This is one of the current UI/UX trends that captured the imagination of many UI UX designers in recent years. Instead of using true-to-life photography for depicting products and services, now companies can incorporate surreal elements by incorporating color and other visual effects. The more trending thing is to use graphic drawings over photographs.
This is a new experiment that helped many businesses to exert their brand personality with full flair. This also helped them to customize the overall look and feel of the interface and draw the attention of their target customers easily.
Wrapping Up
We could not explain here all the major and dominant UI/UX trends. Several others may equally deserve a place in such a listing. But we mostly tried to focus on the evolving design trends propelled by the necessity to stand out from the cognitive overload all around us. Hope the UI/UX design teams across the web and mobile app projects can find this listing useful.