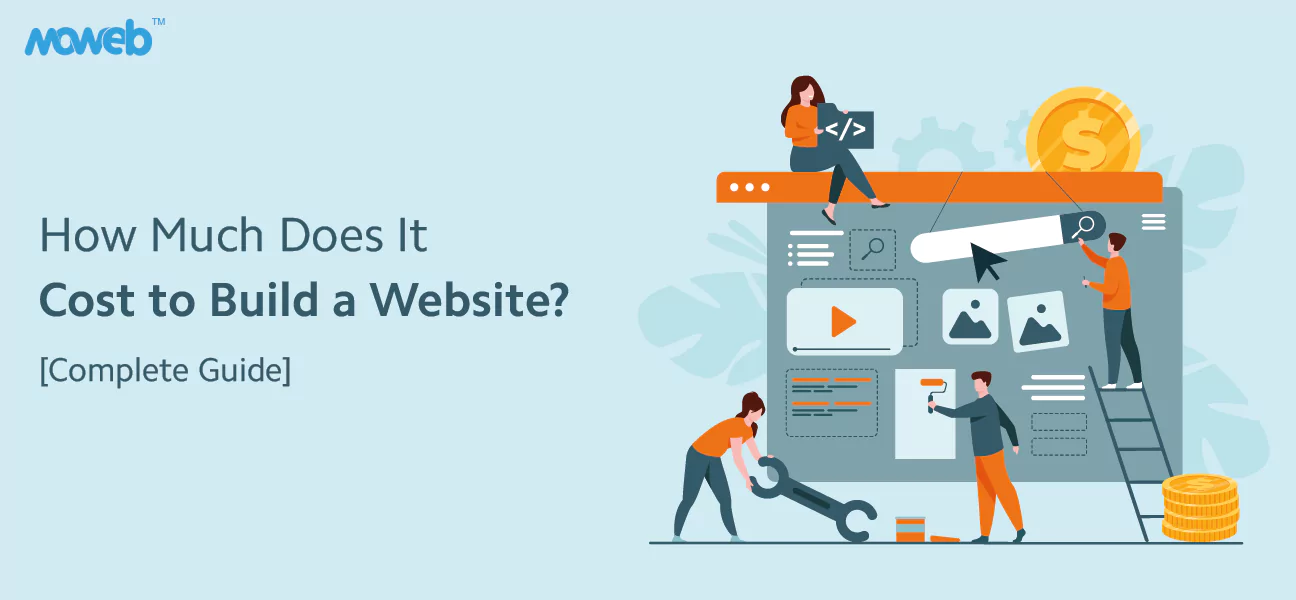 It's one of the most debatable questions being Googled every 10 seconds globally that is still making developers and entrepreneurs perplexed. Before we jump into evaluating, let's comprehend the different elements of creating the website.
First, you have to decide what kind of website you want.
Build a custom website, fully unique and tailored to suit your business needs and goals
Pick a readymade website template to create it (and risk it resembling thousands of other websites)
Custom Website Development
Custom web development is the method involved with developing your website or other digital solution from scratch, customized to suit your business needs, serve your interest group/audience, and assist you with developing your brand online.
It includes several stages:
Research and analysis
Strategy and arranging/planning
Information Architecture
Frontend design and development
Backend design and development
Quality assurance and testing
Optimization and upkeep
Advantages:
SEO optimized codes
Hand-coded HTML / CSS-validated codes
100% original and unique
Highly customizable
Cross-browser compatible with W3C validation
Developed by an experienced web developer
Disadvantages:
Ready-made Template
A ready-made website template is the most affordable and quick solution for developing websites. This ready solution allows you to add fresh pages, content, and images, and make arrangements and alignments to the website page. However, one should have a little bit of understanding of the HTML/ XHTML/ CSS code needed to make modifications to the existing website pages. There are many websites from which you can get thousands of pre-made web templates at affordable rates such as WordPress templates, HTML Template, Joomla templates, etc.
Advantages:
Faster development time
Inexpensive (lower price)
Ready for prompt download
Disadvantages:
Lack of self-identity
Biased customization of web template
Antiquated coding
Generic design formation
Inferior quality
What is your Service Industry Type?
There are multiple industry types and they have readymade solutions for that. Hospitality service, financial service, Healthcare service, E-commerce service, Real estate, Manufacturing and engineering service, Media and entertainment service, Agriculture service, Education service, Transportation and Logistics, and others.
For example, in an eCommerce solution, if users want to go for the readymade solution, they can choose Magento, Shopify, WordPress, Joomla, etc. OR go with the customized solution based on their actual requirement with their preferred technology stack. Like PHP, Dot Net, etc.
Technology of Project
Before getting any code composed, you must choose the tech stack for your system, which is not a simple task, particularly for an entrepreneur with a non-technical background. There are a large number of choices in the market and picking any framework or system could cause problems with the accepted outcomes.
A technology stack is used to construct a mobile or web app. It is a union of programming languages, patterns, frameworks, libraries, servers, UI/UX solutions, software, and tools utilized by web developers.
Truly, there are a couple of key variables to think about while deciding a technology stack for any project, to quickly narrow down the number of choices.
Front-End Tech Stack
HTML, CSS, and JavaScript libraries.
JavaScript libraries such as jQuery, Bootstrap, and Slick are accommodated into frameworks such as Angular, Vue.js, and React.js used to improve functionality in the user interface.
Back-End Tech Stack
PHP, Ruby on Rails, Python, JAVA, .NET
Third-party service Integration
Hosting and server
Web hosting and servers play a crucial role in assuring website speed, performance, and availability. It's a specialized mechanism for making your site open to anybody on the Internet. Because website hosting is such an important element for powering anything online, there are a bunch of options.
Maintenance
The final phase of website development is website maintenance. Once the site goes live, you really want to have to consistently update content, provide security audits, and perform backups.
As your business grows, you may also need to increase the number of website pages, add more functionalities, and update features.
The codebase of the website ages and deteriorates quickly, which may cause instabilities and performance issues.
For the sake of security and integrity, websites need to be updated and maintained regularly.
This means:
Installing the fundamental security plugins
Performing regular backups
Performing reviews for malware and hurtful documents
Maintaining a firewall and blacklisting IP addresses that perform any suspicious activity on the website
How to plan website takeaways?
Website planning is a stepwise procedure for identifying all features of a business website that must be identified prior to production.
As you create your website requirements, we must include these essential elements of the website specification:
Overview of your business
The project's long-term goals
Information architecture and general content structure
Phases of the project
Website design outline
Functional and non-functional necessities
Hosting, support, and maintenance necessities
Target audience and competitors
The financial plan
Deadline and other important timeframes
Remember that all of these steps can help you enjoy the fruits of successful website planning, such as:
Saving time and money you would waste on repeated processes and trial-and-error procedures
Solving design and functionality issues that would arise from having no website plan
Getting ideal outcomes from creating a well-planned website that aligns with your business objectives
The following are the factors that affect the pricing for any project
Business Analysis and Communication
UI/UX design with HTML
Frontend development
Back end-Admin development
QA- Quality Assurance
Project Management
Go live and support
On average, an informational website takes about 11-15+ weeks to go from the planning phase to the launch phase. Three weeks of research, six weeks of design, three weeks of development, and many weeks of website updating are all included.
The typical development time of a uniquely designed templated solution that the developer codes as a bespoke website is 50 to 200+ hours approx. For a small level website pricing is approx. $1000 to $5000 approx.
However, Enterprise-level and eCommerce websites that are fully customized and have a bigger scope and set of requirements are more difficult to assess. The development time for these custom websites can range from 200 to 3,000+ hours approx. For enterprise-level websites, pricing is approx. $4000 to $60000 approx.
How much does it cost to create a website – Data-driven insights
The expense of constructing a website relies upon various regions where you can either outsource your website development or hire a web developer to form an in-house team.
Accordingly, you can calculate the estimate of how much a website costs in your preferred region by multiplying the time range with the rates given to you. (e.g., check image) These figures are just an estimate and a fluctuation can be seen as per the project details.
To get a full-fledged project estimation, it is advisable to hire a reliable web development company to build an intriguing yet scalable website.
Choosing the right web development company is essential to build a sales-driven website that drives traffic.
How much does it cost to build a website for a small business?
Well, it all depends on the amount of work involved in building a website.
To be specific, the two factors that determine the amount of work involved are the size and the complexity of your website.
That simply means that a nice-looking 10-pager professional website with standard customization will cost you less as compared to a highly customized full-fledged 30-page website with all plugins and integration.
The cost to build a small business website can range somewhere around $5k to $10k approx. It all depends on your app's complexity, features, functionalities, development platform, and more. So, let's break down the things to get a realistic estimate of how much is it to build a website.
There are two main ways to build a website: Hire a professional web developer and make use of a website builder. Whichever method you choose, will have a great impact on your overall budget.
While website builders are usually the cheapest way to build websites, WordPress is free, open-source, and takes development hassle out of your hands. So, let's walk through each option and explore the cost involved.
1) Hire a professional
Assuming you're occupied with keeping up with your business or then again on the off chance that tech development isn't your favorite, then, at that point, you can employ a web engineer to assemble your site. It's just straightforward!
Hiring a professional website developer is the best option for businesses that are looking to build a customized solution with high performance. The factors affecting the cost of building a website for small businesses include:
Website Page volume
Custom Site Layout
Images, Graphics & Logo
Custom Programming
Website Design
Web Copywriting
If you're looking forward to hiring a professional web developer from a leading web development company like Moweb, you can choose the best resources as per the below hiring model:
Time & Material based Model:
Here developers are paid in accordance with the total man-hours invested as per the .e agreed hourly rate and set billing cycle (i.e., weekly, monthly).
Dedicated Resource Model:
This model allows clients to hire resources that dedicatedly work on their assigned projects and business requirements as per the standard business working hours. The payment cycle is carried out as per the decided billing model i.e., weekly or monthly.
Fixed Price Model
In this model, a service provider is accountable for completing the project within the agreed sum amount set out in the bond.
With the above options, choosing a dedicated resource model gives you more control over your website and budget. It is one of the best options in cases:
When you have little technical knowledge
When someone is looking for a full-fledged custom website
In the development of the blog, business, and large websites.
2) Use website builders
If you have a basic understanding of programming and technology and do not mind developing a website on your own, then website builders are the best alternative to go with.
Using a website builder is the cheapest way to build the website in cases:
When you're technically a novice and do not have much development experience.
Anyone who needs a website lives more quickly.
Anyone who wants to build their website and portfolio.
Below are a few leading website builders to help you build a website as per your business needs.
How much do these website builders cost?
Wix and Weebly platforms come with free plans whereas Squarespace offers a 14-day free trial post in which a subscription needs to be paid each month. While Shopify offers a 14-day free trial to set up your store, a plan needs to be subscribed to each month to ensure a smooth working website. Amongst the three, Weebly allows you to sell online for free – however, you still need to upgrade to use your domain and remove the adverts barrier from your website.
The cheapest paid plan for these website builders is:
Wix – $13/month approx
Weebly – $6/month approx
Squarespace – $12/month approx
Shopify Lite – $9/month approx
Are these website builders worth investing your money in?
With a high-quality website builder, you can surely create a professional website but if you fail to choose the best tools, you'll end up with a trashy product. So, it's better to spend some more and choose a better builder. If you're looking to invest in a product that gives you "value for money", it's advisable to go with Shopify which offers extensive features at an incomparable price.
The cost of website development also includes – website updates, upgrades, maintenance, and licenses!
And, that's where you go wrong. A lot more effort, time, and manpower work behind the scenes to make your website apt and running. Just like your house needs maintenance, your website would also need proper maintenance and upgrades to deliver a glitches-free and immersive user experience.
For instance:
As your website upgrades and expands, you may encounter certain mandatory expenses. This expense includes annual hosting and maintenance fees, annual licensing fees for premium plugins, purchasing new images and graphics, and more. You may even need to hire freelancers and designers to assist you in building custom plugins, and more.
Apart from this, your website may also undergo technical maintenance to install updates and security patches to protect your site from security vulnerabilities. You may even need an offsite backup system to restore your website quickly in the event of software or hardware failure.
So, be prepared to deal with such behind-the-scenes technical mess to keep up your site. To save yourself from such blunders, you can purchase a website maintenance plan ranging between $50-$200/ month. from Moweb to help you save from such technical hazards and keep your website up and working 24/7.
Some frequently asked questions about the website development cost
How much does an eCommerce website cost?
Depending on the website's complexity and its features, the development of an eCommerce website cost can be somewhere around $10,000 – $50,000 and above.
How much does it cost to hire a website developer to build a website from scratch?
The cost can vary between $2,000 and $90,000. It all depends on what requirements you have (a small landing page or a large eCommerce project) and the hourly rates of the web developer. The region from where you hire web developers also creates a bit of an impact on the pricing factor.
How long does it take to build a basic website?
It may take 50 hours approx. (7-8working days approx.) and more to design and build a basic website.
How much does a landing page cost?
An animated, neat, and rich-design landing page may cost you $500 – $5000 and above depending on your requirements and design aspect.
How much does it cost to hire a web developer to build a website?
It all depends on which region you're considering hiring a web developer. In India, you'll pay around $18 – $45 per hour for development, $100 – $350 in the USA, and $65 – $175 in Western Europe.
Conclusion
The price can range between $2,000 – $90,000+. The exact budget can be estimated once you have all your business requirements and scope of work clear and documented. In simple words, to know the exact price, you can schedule a consultation call with our experts to get a detailed breakdown.