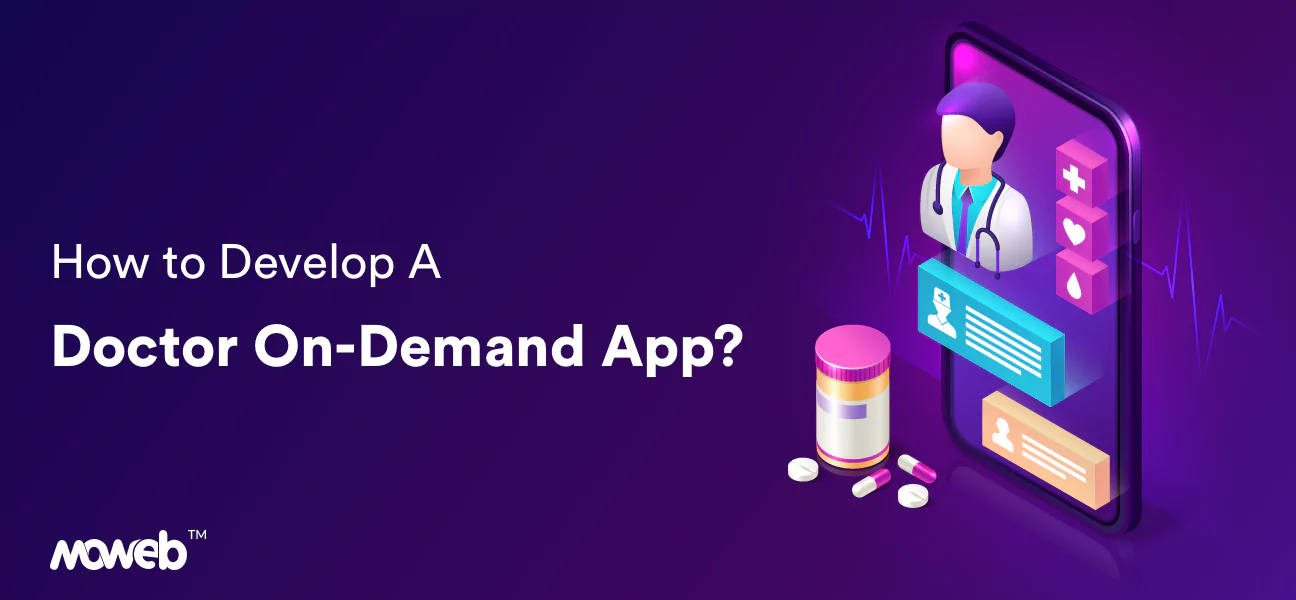 Doctor on-demand search has been increasing in the last few years-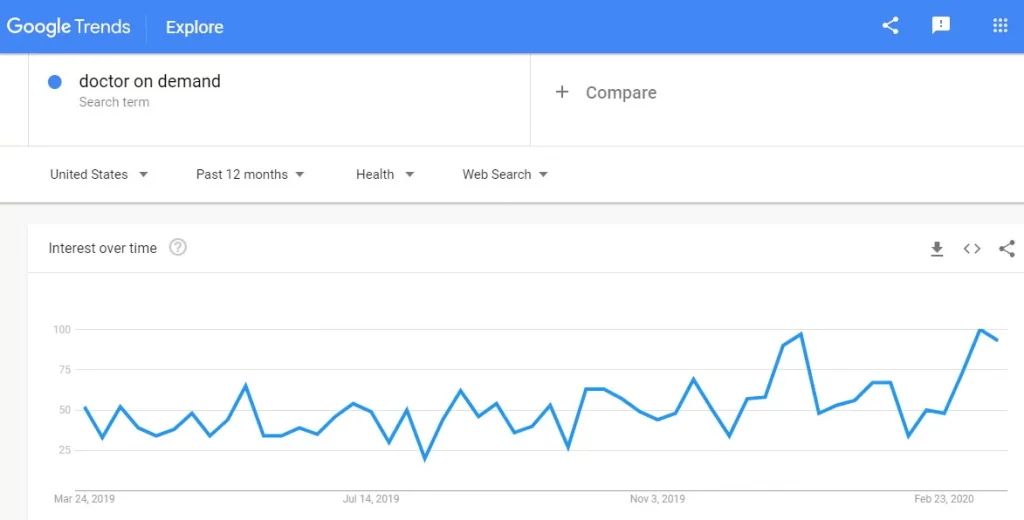 Data from Google Trends
That search could be for anything like, "doctor on demand psychiatrist" or "doctor on demand physician." But, the demand for on-demand services is growing rapidly.
Even when you look for services that are on-demand such as services from a plumber, cab, food delivery, and more.
Today, you think of a service and you can easily access the same in a few taps.
You need food delivery, you have Zomato that delivers food to your doorstep
You need cab services, you have Uber or Lyft that brings a cab to your location
You need entertainment, you have Netflix that entertains virtually on your device
Similarly, if you need a doctor on-demand, doctors can be virtually available on your device in no time. Because on-demand is not what you receive physically at home, virtual assistance or telemedicine facilities can be considered doctor-on-demand services.
Now, if you look at the numbers from the US telemedicine market report, they don't lie. This telemedicine market has witnessed revenue of $11.8 billion in 2018.
Also, the on-demand segment has become more tech-savvy than ever before. You can consider this development as one of the significant advancements that happened in terms of technology in healthcare.
So, it's time for medical startups and doctors with different specialties to think of doctor-on-demand apps to fill the gaps between doctors and their patients.
Why Do Patients Need Doctor On-Demand Apps?
Find out the reasons why patients are looking for Dr. on-demand apps-
1) Unavailability of doctors nearby
Patients who live in rural or remote areas may not be able to access your services otherwise. But using an on-demand doctor app, they can.
2) Long travel times and germ-free wait times
Patients won't need to travel long distances or wait for hours with a risk of being exposed to germs at the clinics to get medical assistance. You cannot miss a situation like a coronavirus COVID-19 pandemic where patients need to avoid human contact and still need medical assistance. They can book an appointment and call a doctor via the app instantly.
3) Doctors are available 24X7 for the elderly and disabled
Using the app, the elderly and disabled individuals get the required treatment on any day, any time, without having to travel to far-off places.
4) Challenging patient monitoring/data
Doctor on-demand apps let the patients connect with you remotely via video call. Based on the diagnosis, you can send prescriptions to them right away.
5) Access to specialized doctors
Licensed doctors with any specialty are available on demand. Patients can call pediatricians, psychiatrists, psychologists, or any other physicians as per their needs. Check out the number of physicians that were available as per their specialties in 2019-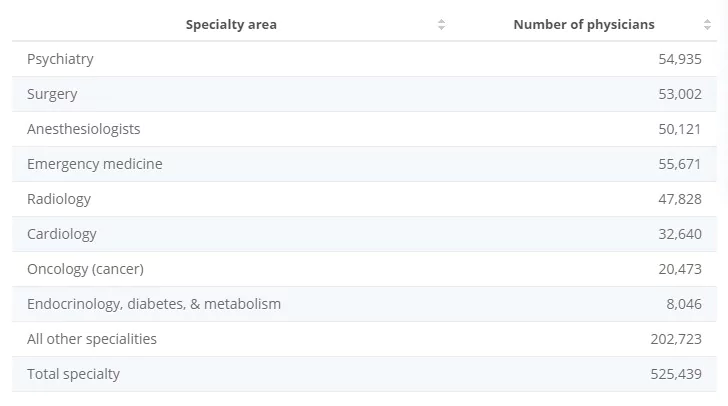 Why Do Doctors/Physicians Need Doctor On-Demand Apps?
Benefits also prevail at the doctors' or physicians' end for Dr on-demand apps and they are-
1) Easy access to patients
Through an on-demand doctor app, you are available 24/7 and accessible to patients. Also, you can enable scheduling appointments in case there is so much demand and doctors are at patients' assistance.
2) Enhance patient's health better
It becomes easier for patients to get the necessary treatment from time to time as you know their past history. Hence, you provide assistance on the go without making them wait in the queues at your clinic.
3) Attract new & retain existing patients
Whatever the disease or need for medical assistance, you can attract new patients as you have all types of doctors available with the Doctor on-demand app. Having an app also means you will have more time to treat or consult more patients, which ultimately implies higher revenue.
4) Less administrative work
You save time on administrative tasks and paperwork with the help of an on-demand doctor app. Well, time is money though.
5) Flexible work-life balance
Most doctors struggle to maintain a work-life balance. But, that's where you can win with a doctor on-demand app and reduce stress in life.
Opportunities in the Healthcare/telemedicine Market
Let's understand what are the opportunities in the telemedicine or doctor on-demand app development market-
The global mHealth market is expected to cross the mark of $316 billion by 2027. Mobile health or mHealth services via apps is one way to improve the healthcare system.
A survey shows that remote connection to patients is one of the main reasons to advance in the field of mHealth-connected business.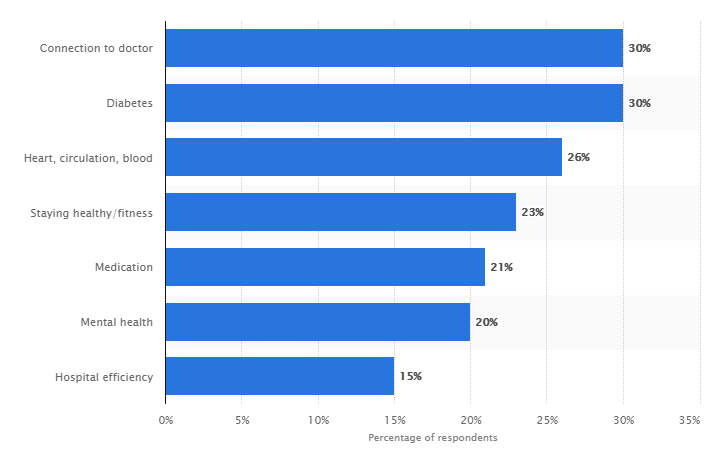 How Does Doctor On-Demand App Work?
Doctor on-demand apps can make it easier for you to offer medical services offline as well as online. Offline because doctors can visit patients at their homes when utmost necessary and online as they can attend to the patients on call. Your patients can connect with you by only a few taps on their phone's screen.
Here is how on-demand doctor apps work:
Doctor registrations and profile creation where they can describe their expertise and achievements
Admins or a team of experts at your end verify the doctors based on their qualifications and necessary documents
User or patient registration via email and their profile creation to store their personal and medical information/history
Search for doctors online based on health problems and medical fields
Patients can make a phone call, call the doctor at home, or schedule an appointment
Personal assistance booking to call you at the patient's place and provide medical assistance
Digital prescription sharing via the app
Online payment transfers to the respective doctors and you via secure payment gateways
Well, we can improve the entire process of searching for a doc, scheduling an appointment and taking video calls to offer the best of user experience and beat the competition around.
Click Here To Know the Cost
Revenue Model of Doctor On-Demand App
The need for doctor on-demand apps with telemedicine functionalities is growing because of unexpected situations like COVID-19. And hence, the revenue can also increase in various ways-
Online Payments – Direct revenue from the patients when they pay you for the services using the app
Paid Listing – Featured or paid listing of several doctors or laboratories to give them the attention of patients on the app on a subscription basis
In-app advertisement – Third-party advertising modules to show within the app based on user's browser history; optional but can be added as an additional source of revenue
Before monetizing the app, it is crucial to grow the user base of the telemedicine-like on-demand app and promote its prime functionalities. The app should benefit them so that they use it as per their health needs.
What are the Features of a Doctor On-Demand App?
There are three main panels of a doctor on-demand app –
Patients where they can book the appointments
Doctors where they can accept/reject the appointments based on their schedule
Admin where the staff members manage the Backend
Find out more about the features of each of these panels –
Patient Portal Features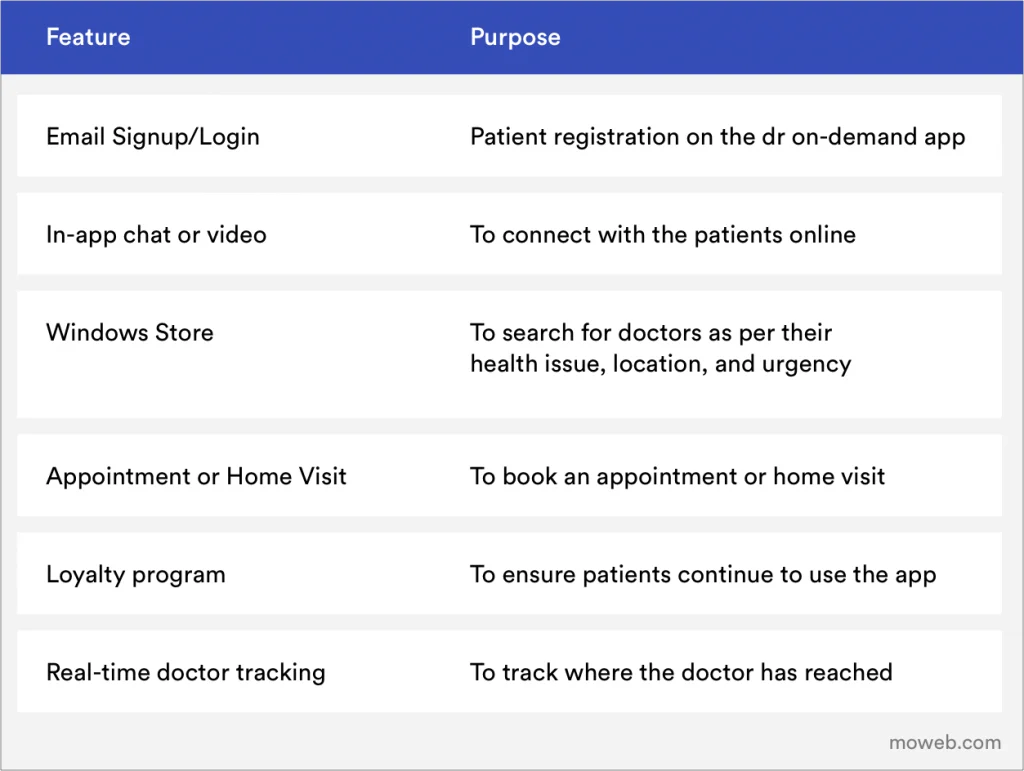 Doctor Portal Features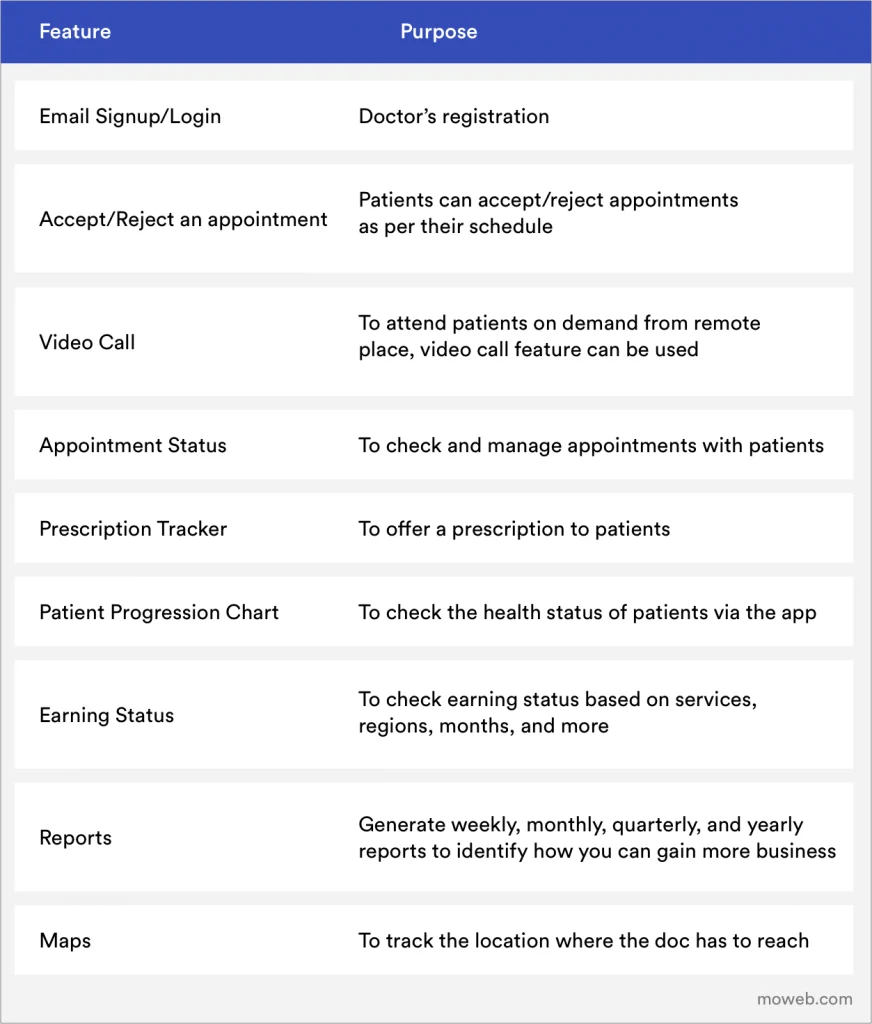 Admin Portal Features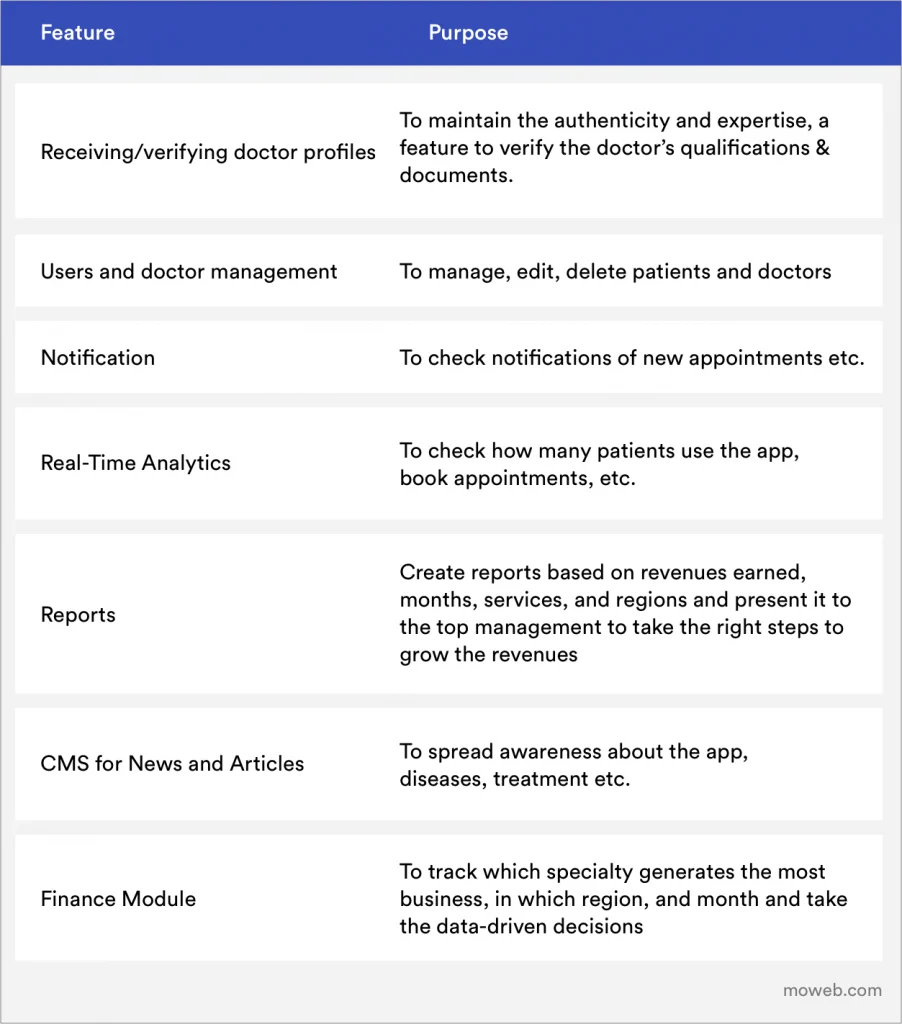 Advanced Features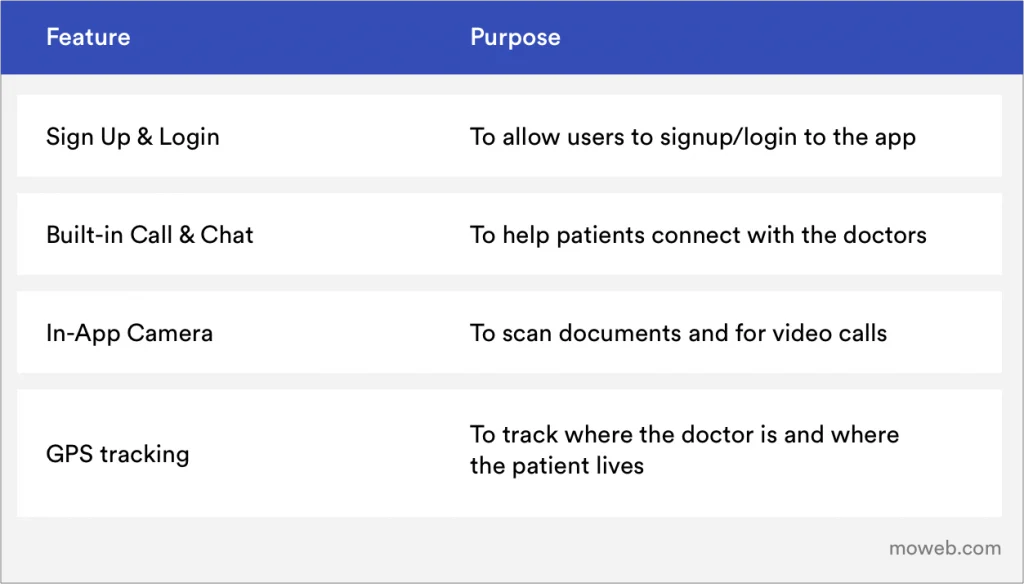 Team Structure of Doctor On-Demand App
The team to develop the most prominent and successful doctor on-demand app should be highly experienced in knowing your requirements, suggesting the right steps, and keeping you informed throughout the entire doctor on-demand app development process.
They should be aware of every norm and compliance of medical regulatory federations as per your location whether it's the USA, Australia, Africa, or India.
The most skilled and experienced doctor on-demand app development team knows what features and functionalities would deliver an excellent user experience to boost the growth and ROI of your mHealth app.
We suggest the following people in your doctor on-demand app development team:
Business Analyst
Software Architect
Project Manager
UI/UX Designer
Android & iOS Developer / Flutter or ReactNative Developer
Backend Developer
Medical Acts/Certifications for the USA
We have covered medical acts and certifications that a doctor on-demand app must comply with before launching it, which varies from country to country. Particularly for the USA, they are as follows:
Health Level 7 International (HL7)
Food and Drug Administration
Meaningful Use Stage 1 and 2 (MU-1 and MU-2)
Electronic Prescription for Controlled Substance (EPCS) Certification
Electronic Prior Authorization (EPA) Integration
Tech Stack Required for Doctor On-demand App
Sketch
Xcode
Android
AWS
Fabric iOS
Android Studio
FCM
Geo-Fence
Google Analytics
Google API
Mean Stack
Sass
Google Webmaster
Stripe
Swift iOS
Zoho
How Much Time Does It Take to Build A Doctor On-Demand App?
The time to develop a doctor on-demand app differs based on various factors-
Scope of work (SOW)
List of features and functionalities to have in the dr on-demand app
Technologies to be used to build the app
Complexities in building various features and functionalities
Number of people you have on the team
But, it takes a few months to develop a powerful doctor on-demand app with telemedicine functionalities.
CAUTION: If you find somebody saying they can develop in a few days or a month, stay away from them as they might deliver an app full of errors and flaws.
How Much Does It Cost to Develop A Doctor Appointment Booking App?
No two doctor-on-demand apps are the same. They differ in terms of various aspects, such as the number of features in them, app design, app usage and performance, app availability on multiple platforms, and geographical location where you want to get the app developed.
All these aspects have a combined impact on determining the total cost of doctor on-demand app development.
It is best to launch the MVP version of your app with the help of a doctor's on-demand app development agency.
How much does it cost to develop a mobile app?
Click Here To Check Out Now

Some Popular Doctor On-Demand Apps
To get inspiration for your doctor on-demand app, it is a good idea to know about the existing popular apps in this category. Here's a list:
Doctor on Demand – offers services, including urgent care, preventive care and chronic care
Medici – enables virtual visits with doctors, veterinarians, and therapists via audio or video calls
MDLIVE – offers medical help with over 50 health conditions
Bring Your App Idea to Life
The competition in healthcare industry is more competitive compared to other service-based industries. And, if you don't make a healthcare app now, other medical startups would.
So now you know-
Why you need a doctor on-demand app
Whether the healthcare at-home market is on the rise
How a doctor on-demand app works
What's the revenue model to monetize your mHealth app
Simple and advanced features you need for your Dr. on-demand app
The minds and hands you need in your doctor on-demand app development team
How much time it takes to develop a telemedicine app
How much it costs to develop the app
Some popular doctor on-demand apps
Keep in mind that your doctor on-demand app must have the right value propositions that can attract the target audience and fulfill their needs.
Talk to the experts before you finalize how much you want to invest in developing your money-minting doctor on-demand app.
Case Study