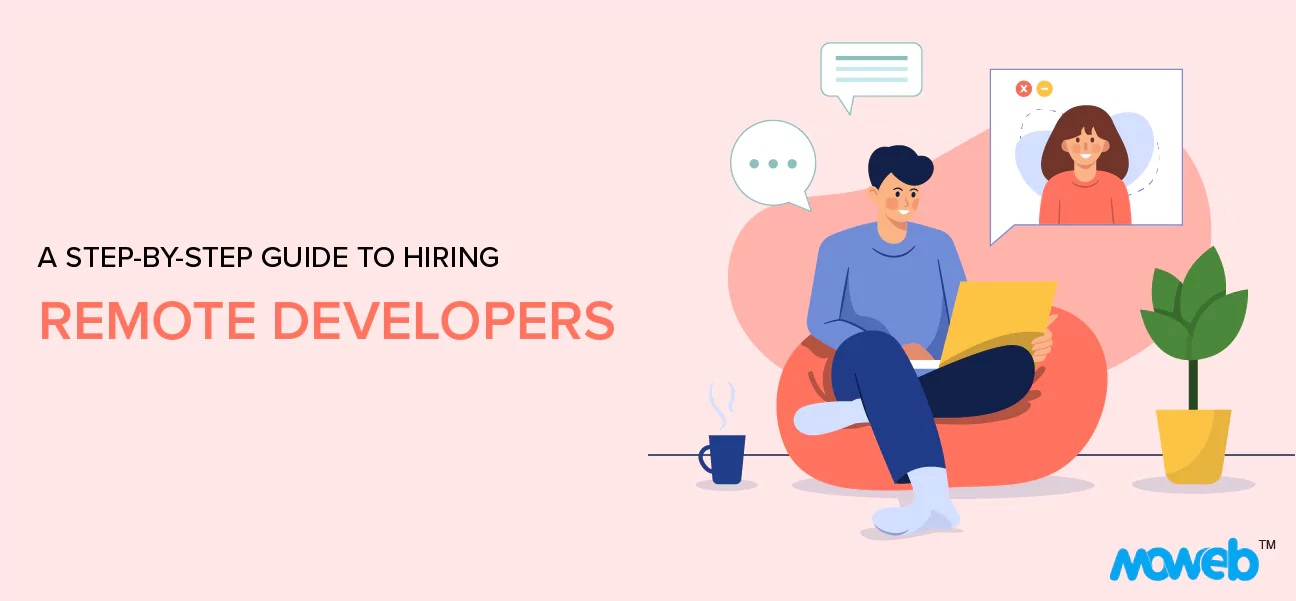 Most companies now prefer to hire remote developers to bridge the talent gap for an app project. A staggering 79% of small businesses go to outsource their app development projects. But since there are thousands of seemingly credible choices across every skill set, getting on board the right team is never easy.
When hiring remote developers, the advantages and challenges seem to make a perfectly balanced proposition. You make the right hiring and all the benefits are yours and when you get on board the wrong team the project is doomed. This is why to hire a remote development team it is always advisable to follow the footprints of successful projects and the hiring strategy they follow.
So here we are to provide a step-by-step guide to hiring remote app developers IN 2023 for your project. But before that let's spare a few words on the advantages of remote hiring.
Key advantages that make remote hiring so lucrative
When businesses hire remote software developers, the first thing they consider is wide-open exposure to the global talent pool. Then comes the cost advantage and of course the benefits of accessing top-notch infrastructure. There are several other advantages as well. Let's take a sweeping look at these advantages.
The flexibility of choosing engagement models: When you hire dedicated remote developers, you may go for it alongside an in-house team and this will be called a hybrid model. You can switch between the remote and in-house teams as per the immediate project goals and keep a higher productivity level.
Accessing a world full of developer talents: Whether you hire a remote web developer or mobile app developer or an enterprise software developer, by hiring remotely you can access the global pool of talented developers across multiple skills.
Access to the latest technologies & skills: Some countries are known for their fast-evolving tech scene such as the US, India, Germany, Russia, China, etc. By hiring developers from these countries, a business can easily avail of the latest technologies and skills for its app projects.
Access to robust IT infrastructure: IT infrastructure is poor for many businesses in the vast majority of countries in the world and to fill this gap they look up to the leading countries in the IT landscape to hire remote programmers.
Distinct cost advantage: Last but not least advantage of hiring a remote developer from developing as well as IT-focused countries such as India is the competitive cost gain. The favorable currency exchange rate, lower developer rate, and stiff competition in the market thriving with startups, ultimately helps pull the prices down.
The time-tested steps for hiring remote developers for app development projects
Create a detailed project requirement document (PRD)
When you are looking for remote developers for hire, just have something to describe your app project in detail. It should mention everything from the app concept to technical requirements to the budget and timeline. An ideal project requirement document should constitute the following things.
Whether it is going to be a native app or hybrid app or a cross-platform app. If it is a native app, whether iOS or Android will be a priority or the app will be released on both platforms simultaneously.
Now based upon the above decision, mention the tech stack for native or hybrid, or cross-platform development.
Mention the development methodology for the project. Choose among Waterfall, Agile, Rapid App Development (RAD), Scrum, DevOps, and a handful of others.
Do you want to follow incremental development approaches like Minimum Viable Product (MVP)? If yes, mention the priority features for MVP and intended value additions and features for future updates.
Mention the timeline for the app release.
Lastly, mention an approximate budget available for the development.
Know where to find the right developer talents
When you try to hire a dedicated remote team, you need to engage on multiple channels to find the right developer teams. Here below we mention some of these channels.
If you prefer hiring expert developers on a freelance basis, some credible online channels such as Upwork, PeoplePerHour, and a few others are recommended.
If you want to get on board a team of dedicated developers from a well-known development company, B2B platforms like Clutch, GoodFirms and Dribble can be ideal places to start hunting.
Hit developer-only platforms like GitHub and StackOverflow and find the most proactive developers with a lot of earlier projects, higher ratings, and credentials.
Search in Google as well as Google Maps to find popular development companies in every global region.
Search reputed boards such as Glassdoor, LinkedIn, Indeed, and several others to find expert developer teams.
Focus on the leading IT outsourcing destinations
Where from you want to hire expert app developers for your project? This is a key consideration. Our advice is to opt for the leading IT outsourcing destinations. When considering developer locations, focus on the following aspects.
Time-zone difference: How much the time zone difference with the remote developers is going to impact your project outcome? You need to ask this when considering any developer team.
Rate & cost advantage: Lower currency exchange and low developer rates make a key consideration for hiring remote developer teams. When you hire a remote dedicated development team in India, this cost advantage alongside a huge talent pool will stand out.
The IT market depth: How developed and competitive is the IT market of that country? It is a key consideration to find a developer team that needs to beat the huge competition.
Linguistic & cultural impact: How the language differences and cultural gap can impact the collaboration with the in-house staff? This is another crucial consideration when you hire a remote developer.
Scrutinize the portfolio closely
Since there's nothing like project experience to judge the practical skills of a development team, evaluating the track record and portfolio of past projects is necessary. Instead of popping your eyes to see an extensive portfolio, consider the app quality and how similar their experience is with your industry.
One of the best ways to evaluate the technical skills and domain expertise of developers corresponding to their portfolio is to make a background check with the clients of their past projects. They can talk about the good or bad sides of their experience in working for the respective development company.
Conducting remote interview
Just when the initial screening of the right developer teams for the project is over, it is time to start interviewing one team at a time. Conduct remote interviews over Google Meet or Zoom or Skype with the video mode on. The interview process should be carried out by the core technical team headed by the CTO.
In the interview, you can further go deeper into their portfolio and past development expertise. Technical knowledge apart, they have to tell how they can contribute to an app project meaningfully. You have to give a comprehensive brief about the intended project and expectations from them.
Testing programming and development skills
Now following the first round of interviews, it is time to evaluate their programming skills and practical development knowledge, and exposure to problem-solving. This is best done through a coding test with a demo app project. Though you can always figure out the questionnaire and make a demo project on your own, some programming test tools like HackerRank can make your job much easier.
A pair programming session is another level of this technical skill evaluation that makes the candidate build a small app or some features in collaboration with the remote in-house team. Besides judging their coding skills this will also help to understand their ability to work in a collaborative environment with the remote technical team.
Soft skill interview
When the developers pass the technical test and show their potential, they still need to pass a soft skill assessment test. Mostly conducted by the HR team along with CTO or CIO, this interview focuses on the work ethics, motivation level, and integrity of the developer candidates.
This is the interview where how expectations from both can meet for a long journey is assessed. From working hours to the particular deliverables and deadlines, from the resources to expected deliverables to communication skills to future career aspirations, all these attributes are evaluated in this step.
Employee Onboarding
Now when the selection process is over, don't think that the hiring responsibilities are over. Without a proper onboarding process, the whole effort can go astray. You need to keep the confidence of the developers in the company as higher as day one. Ensure clear communication and a step-by-step process to get oriented and start working. An orientation and induction session for the new developers to engage with the work culture of the company is extremely important.
Final Words
Remote hiring no longer carries the traditional sense of remoteness thanks to an increasingly connected world. But while remote hiring will become the mainstay of talent acquisition across app projects, there will always be challenges and competition to get on board the best experts. This is where these steps will help a business stay ahead of others in the race to hire the best and the most experienced.