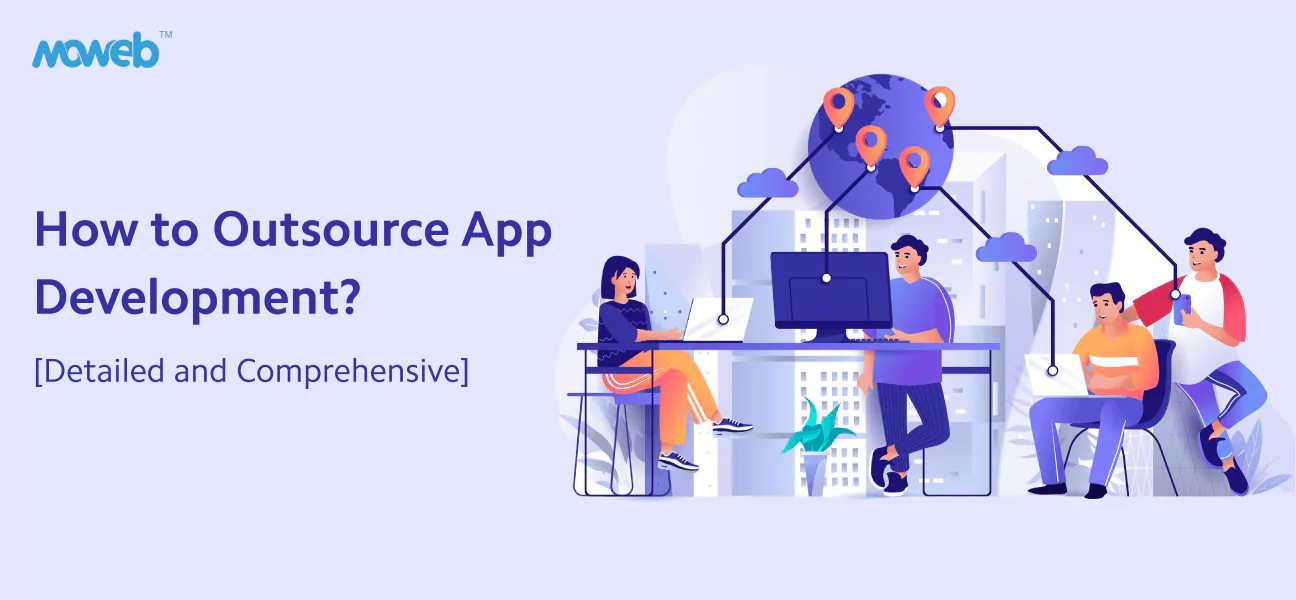 The popularity of mobile apps for every problem in life is already evident. The penetration of apps across all walks of life could not be possible without businesses taking advantage of the global pool of skilled developer talents. The ever-expanding market for outsourcing app development is a key growth initiator for businesses across all niches.
The shortage of skilled developers is a reality that pushes many companies towards outsourcing. A McKinsey report says that a whopping 87% of businesses just because of facing a severe shortage of developer talents are forced to opt for outsourcing their projects. Another survey by Deloitte mentions that as much as 70% of businesses outsource app development either to fulfilling the skill gap or for reducing app development costs.
But despite the benefits and overall positive role played by outsourcing in fulfilling the skill gap and reducing costs, finding the right outsourcing team can be challenging. We are going to help you here to address these challenges through a step-by-step guide. But before that let's begin by explaining the advantages and challenges of outsourcing app projects.
Why outsource app development?
In a connected world where ease of communication and collaboration pushed aside so-called location constraints and geographic remoteness, app projects more frequently reach out to the talent pool across different parts of the world. Some of the big gains that outsourcing offers include the following.
Reduced cost of development: In contrast to in-house hiring, outsourcing app development costs can give more control over the budget. In countries where the hourly rate of developers and wages are far too high, businesses can opt for comparatively weaker developing economies with great IT markets to have a cost advantage.
Faster time to market: It is well known that with in-house development a business needs to spend a lot of valuable time on hiring, training and onboarding developers. In contrast, an outsourcing team starts working as soon as the agreement is fixed and can deliver as per the project deadline.
Access to a larger talent pool: With in-house hiring, your search for developer talents are severely constrained by the location. With outsourcing, you can access talented developers with the right skills and expertise all over the globe.
Access to well-equipped IT infrastructure: Businesses with non-technical backgrounds find it hard to establish a fully-fledged IT infrastructure equipped with cutting-edge software tools, licenses and hardware setup. Just by outsourcing the project to a seasoned development company you can get rid of these concerns and the cost of establishing your own IT infrastructure.
Outsourcing friendly tools, protocols and environment: Finally, the global IT and app development market are now highly accommodating and convenient for outsourcing projects because of a plethora of remote communication and collaboration tools and a lot of regional as well as federal benchmarks, protocols and legally binding compliance norms.
Key challenges to outsourcing app development
Despite the above-mentioned advantages, outsourcing application development projects also face some challenges that are visible in different ways. Let's have a quick look at the key challenges faced by outsourcing app projects.
Time zone difference: This has been a key roadblock to preventing many businesses in one country to opt for developers from a faraway country. But time zone differences can be mediated by making both inhouse and remote teams stretch or shift their working hours a little so that they find some time to communicate and collaborate.
Linguistic and cultural differences: Proficiency in the English language is still a key requirement for most software and mobile app development outsourcing projects. The cultural differences may also create problems in understanding the practical problems that the app project is trying to solve.
Lack of alignment with project goal: A remote team may not always feel as aligned to the project goal as the in-house developer team and this remains a big challenge. Understanding the small business challenges in India can be a problem for a developer in the US and this may result in a lack of goal alignment.
Contract loopholes: The loopholes in the outsourcing contract particularly regarding the rights on the source code and app documentation can put a business in a vulnerable condition. Make sure the contract is legally perfect to safeguard your ownership of the source code and other aspects.
A step by step guide to outsourcing app projects
Now that the benefits and challenges of outsourcing app projects are explained, we can move on to the key steps in outsourcing a development team. Here we go.
Have in place a clear project requirement document
Before you outsource your app project to an offshore app development company, you must have in your hand all the project requirements. The requirement document should identify the problem the app is going to solve. Secondly, it should explain how the app is going to offer a solution to the problem through particular features and functionalities. Thirdly the document should also mention the attributes corresponding to the user interface and user experience of the app. Last but not least is to mention the target users for your app project.
Based on the findings in the above paragraph, you need to mention the technical requirements for the outsource mobile app development project in clear terms. These technical requirements will be based upon the app concept, features and functionalities, UI & UX and the target users of the proposed app project.
The key technical requirements for the app project constitute the following aspects.
Mention the type of app you are going to build. It can be a native app or a hybrid app or a cross-platform app. In case you want to build a native app, mention whether it is going to be iOS or Android first and explain the rationale behind this.
Now explain the preferred and suitable technology stack for the app project. Here you need to mention the skills that are already available in-house for your project and the skill gap for which you need to outsource a development team.
Another important thing that you need to specify in this document corresponds to your preferred development methodology and development approach. There are methods such as Agile, Waterfall, Rapid App Development (RAD) DevOps and a few others. If you prefer the incremental development approach such as Minimum Viable Product (MVP), you also should mention this.
Now clearly mention your expectations for developing and releasing the app in time. When you set the expectations, the vendor company can follow accordingly or suggest changes.
Finally, set clear expectations regarding long-term partnerships regarding app support and maintenance. In case you have opted for MVP development, mention the app updates and value additions that are going to be expected successively after the app release.
Finding the right development team
When all the project requirements are clear and specified and you know exactly the skills and expertise you require to shape the success of the app project, it is time to find out the right development team for your app project. Remember, despite the lower cost to outsource app development, the project can go astray if it lacks the right skilled resources. Here below we mention some of the tested and tried avenues to find the best outsourcing teams for app projects.
The websites featuring reviews of software development companies offer great options to know about a lot of credible development companies. B2B review sites such as Clutch or GoodFirms provide a detailed overview of development companies along with their ratings and client reviews.
There are also several leading online publications for the software industry such as Gartner, Forrester and a few others. In these publications, you can come across the world's leading development service providers based upon different niches.
Another crucial and effective way to come across highly skilled and experienced developers is to search developer-only flat forms such as GitHub and StackOverflow. In GitHub, you need to look for developers with a high volume of contributions across different repositories and in StackOverflow, you need to look for the most active developers offering credible solutions to many development problems faced by other developers.
Last but not least, an important method is to post your requirements on leading professional job boards such as LinkedIn to get your project noticed easily.
Sign the NDA before sharing project requirements
Your project requirement document includes crucial business details and vital intellectual property such as the details of an app solution. You cannot make this document public.
So, when sharing the document with a development company for the sake of making progress with the app project, you need to take necessary safeguards such as signing the Non-Disclosure Agreement (NDA). This agreement legally binds the development company for maintaining confidentiality regarding all the project details shared by the client company.
Ask for a detailed proposal
Now after shortlisting a few development companies and signing an NDA with them to share the requirements of the application development outsourcing project, you can ask for detailed proposals from them.
The proposal documents must respond to the project requirements you already shared with them. Ask for a proposal that clarifies their expertise and skills, the technology stack they consider for the project, the number of developer resources required, the project deliverables, the timeline, and the cost quote.
Ask for their detailed execution roadmap
Once they have responded with a formal proposal, you need to ask for a more detailed execution roadmap for the project. Ask them to provide a chart with a project timeline corresponding to every deliverable.
Ask them to provide some insights about how they are going to manage project risks. Ask them to mention the preferred communication method and scopes of iterations during development. If they have similar development experiences, ask them to share the same. Lastly, ask how they are going to provide post-development support for the app project.
Technical interviews and tests
Now, it is important for your technical team headed by the CTO to carry out technical interviews of the candidates evaluating their skills and past development experience in detail.
Once the candidate passes through the technical interview successfully, it is time to put him to a sample programming test. It is advisable to give him a similar project very similar to the actual one but only involving the core development.
Some companies also prefer to carry out pair programming sessions involving both the remote team and the in-house team engaged in the development sharing the same environment. This is a great way to evaluate the coding and problem-solving skills and their aptitude for working in live collaboration with a remote team.
Sign the project contract
When the selection process is over, it is time to sign the service contract with the development company. The service contract agreement should specify all the project deliverables, the cost breakup with fees details, the delivery dates and terms & conditions.
Get ready to onboarding the new developer team
Now as the client company you need to get on board the new developer team in a way to ensure ease of collaboration and higher development output.
Start by mutual introduction involving every team member followed by a briefing on the project specifications and timeline. Make a mutually agreed communication plan for coordination during development and make sure all team members are on the same page regarding the software tools for keeping track of the project.
Conclusion
Since almost every second app project is chasing after the best app development outsourcing companies, finding the right talent at a competitive budget is increasingly getting tougher. This is why it is important to adhere to the best screening and hiring practices that most successful outsourcing projects benefited from. All these steps and guidelines of outsourcing have passed the test of successful app projects.