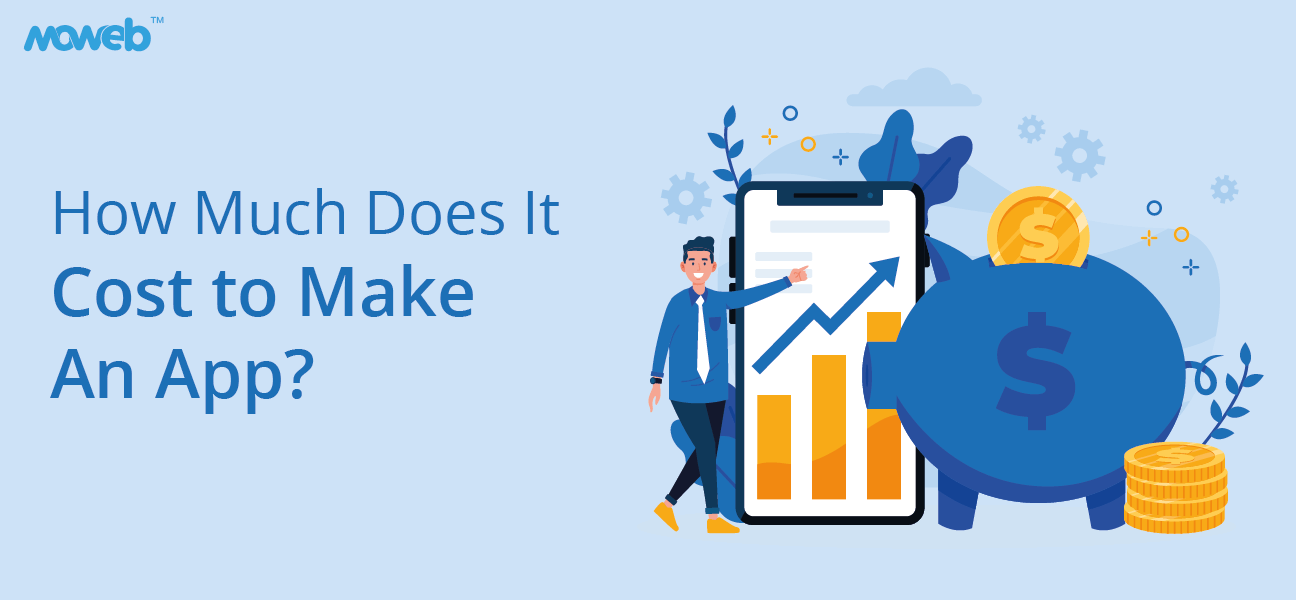 The above question is one of the top questions our team receives in emails.
Looking at the frequency people email us, we thought of checking how many people worldwide actually search for it. And, here is what we got from Google Trends–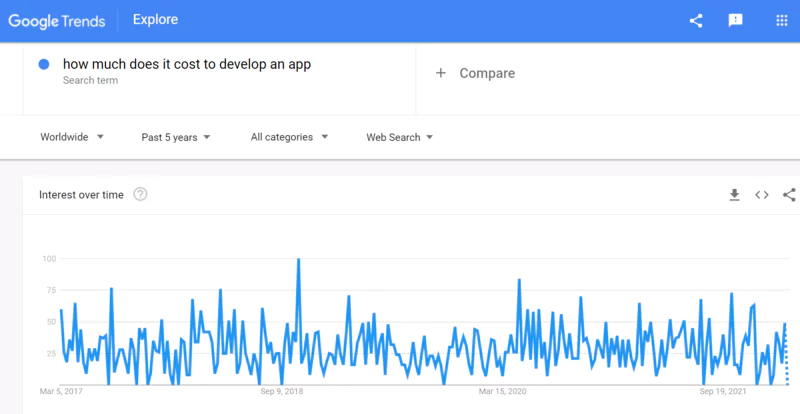 We understand how important it is to get an answer to this because the cost will help you in making many decisions for your business growth.
Every mobile app development company has covered some fixed or tentative costs. But, you must understand that the cost of developing a mobile app used to differ earlier and even today in 2022.
The cost of developing an app won't be similar across all industries and all kinds of requirements and budgets.
That's the reason why we have come up with the minimum cost estimation for the different types of mobile apps having different requirements.
In this cost estimation guide for mobile app development, we are going to discuss-
Let's begin with the first one.
Factors affecting the cost of developing an app in 2022
Here are the basic factors that affect the cost of making an app in 2022 and beyond-
1) Platform
The platform of your app is one of the top factors that decide the cost of your app. Either you have iOS users, Android users, or a mix of both of these.
Both platforms operate differently. Hence, mobile app development companies need to take up different approaches, strategies, frameworks, and guidelines to either build native iOS or Android apps. But, when it comes to developing an iOS app, it costs more than building an Android app. All thanks to its entire tech kit of iOS app development.
Also remember, the geography you choose for building your native app may affect your cost. Check out the hourly rates to develop native Android and iOS apps based on different countries-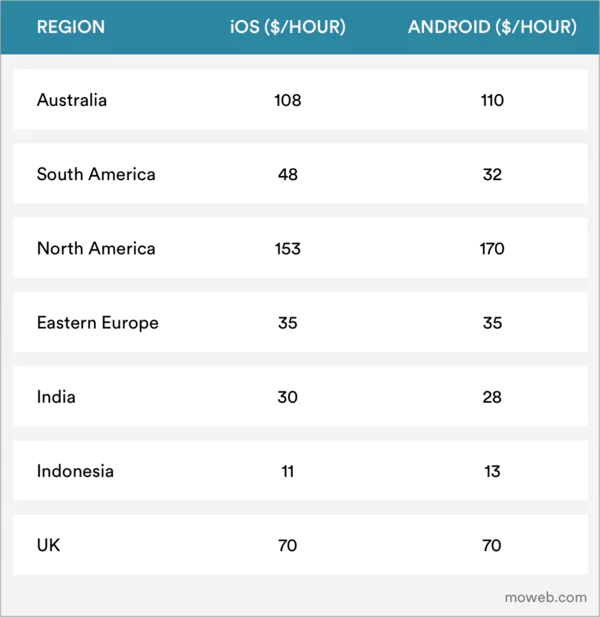 What if you want to build both Android as well as iOS apps? Then the cost goes higher if you build both native apps. Hence, you can think of cross-platform app development. In this scenario, a single codebase is used to build apps for both platforms. When you code once and make it look specialized built for a specific platform, the cost of developing apps goes comparatively down.
2) Type of app
The cost of your app development highly depends on the type of app you want to make. For example,
On-demand entertainment apps like Netflix
A game like HQ Trivia, Candy Crush
Uber for taxis, salons, plumbers, etc.
eCommerce apps like Amazon, Walmart
Fintech app like BankOpen
Healthcare apps
LinkedIn for doctors, lawyers, etc.
Enterprise apps
And, more
Each of these types of apps requires different sets of features, technical components, budgets, and approaches. That's the reason the cost of building an Uber for a salon largely differs from the cost of making a Fintech app.
Even the duration to build each app is different.
The type of app decides the other factors that directly influence the cost of your mobile app development. Let's learn about them too.
3) App Features (MVP vs. Full)
Another super important factor that affects the cost of building an app in 2022 is the set of features you need.
What features do you want in your mobile app? Let's find out a list of features that a mobile app could have-
This list is endless for both sides. But, you can think of what you need to kick off your business mobile app.
Minimum Viable Product (MVP) is trending among startups. MVP is a version of your mobile app with the most necessary app features to impress the investors and test how much it can compete with the others in the market.
A mobile app, fully loaded with features, is another thing. When you go for MVP, the cost is less because the features are limited. But, when it comes to mobile apps with all the features, then the cost is on the higher side.
The more you go for customization and more features, the more it costs. So, your app development cost would differ based on the features you choose.
And, choosing the right features depend on the way you want to deliver the customer experience and accelerate your growth.
4) Technical complexities
Here comes the next factor affecting your mobile app development cost, which is the technical complexities.
We have categorized the type of technical complexities into three different options- simple, moderate, and complex.
Simple
A mobile app with simple configurations consists of a simple user interface and navigation, social media integration, responsive design, not too many server requests, and all such sort of. Simple configurations provide a plain experience, and hence, you cannot do profitable business with the same.
Non-profit organizations, committees, etc. can go for such simple mobile apps.
Moderate
Moderate complexities in an app include customization of your requirements in UI/UX, API integrations, backend systems, and more. Your moderate app example could be smaller apps like niche eCommerce apps with a limited number of customers, progressive web apps (PWAs), etc. with no detailed configuration, less usage of data, and almost no usage of emerging technologies.
Complex
A mobile app with complex configurations shall have customization of every feature, rich media creation, complex backend systems, third-party API integrations, real-time data feed, Artificial Integrations/Machine Learning components, and more. The complex mobile app examples could be Fintech apps, Healthcare apps, e-commerce apps with personalization, on-demand apps, etc.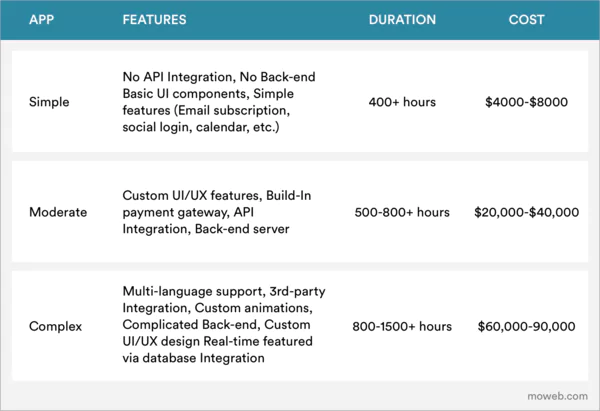 To finalize the type and list of features is not enough. Your mobile app development companies have to identify how much effort and how complex it would become to create those features and the entire app flow.
For example, if we only consider the Fintech industry, there are multiple ideas around which you can build an app.
Wealth management with real-time notifications
Stock trading app with real-time market data analysis
Banking services
And, a lot more

If you look at their features, a Fintech app with banking services would have different configurations compared to the one with real-time data streaming.
Hence, the proportion of technical complexities would either increase or decrease the app development cost.
5) Freelancer Vs. Agency
Yes! Now, this is the most crucial yet highly influencing factor in deciding the cost of making an app in 2022.
With so many portals available to choose the freelancers to build your app, you always have an option to re-think what people you want on board for your app- only the developers or the team that has experience in building successful business products.
Here is a list of pros and cons of choosing a freelancer vs. agency for building an app-
So, for simple mobile app features, you can go for a freelancer. But, for a moderate and complex one, you must choose a mobile app development company.
The hourly cost of hiring a developer starts from $15. And, if you choose an agency over a freelancer, here is the list of people you can think of hiring and their tentative rates around the world-
Based on this cost estimation table for the entire mobile app development team, you know which people you need and what level of performance you can expect from them.
Freelancer or agency- whichever you choose, decides the cost of your mobile app.
6) Duration
Mobile app development can take from three months to even three years, depending on your requirements, type, and features of your app.
We have worked with startups where we took 4-6 months to deploy the apps and also for a few Fintech and Healthtech products from more than the last three years.
NOW, you must know that mobile app development works on hourly engagement models mostly. That's the reason why duration plays a significant role in deciding the cost of your mobile app.
The more hours it takes to build a mobile app, the more it will cost you. Most of the developers or app development companies would come up with cost estimations based on hours. And, the features and the technical complexities help them come to a cost.
Cost to update an app in 2022
Now, the spending doesn't end after building and deploying your mobile apps into the app stores. There comes a set of updates now and then to keep your audience hooked and engaged in building brand loyalty.
Two kinds of app updates prevail in the mobile app industry-
1) Implementing changes to your existing mobile app
The new changes could be bug fixing, adding/updating/removing a few features, security patches, etc.
These updates are standard and apply to all kinds of mobile apps. Only the level of complexity decides the duration, and ultimately the cost of creating and implementing the app updates.
2) Updating those apps on the app stores
Google Play and Apple App Store come with a cost where everything from launching to updating an app is included. That rate remains fixed all around the year.
Cost to maintain an app in 2022
App maintenance is different from updating an app. Updates happen when you think your app needs them. However, app maintenance is mandatory because it includes checking the app for performance and bugs.
As the app needs maintenance regularly, the cost is fixed at most agencies. So, that you would know in advance, but it would differ from company to company.
How to cut app development costs?
Though mobile app development for a profitable business strategy is not inexpensive, there are ways to cut app development costs. Let's find out how.
1) Doing the right research and analysis
The first and foremost mistake you might make is not knowing what you need and whatnot. Just researching and analyzing the market and your competitors is not enough. You need to identify how your competition is moving further.
With the right research and analysis, you can come to know the following things-
The type of mobile app my audience is looking at
My mobile app should be able to compete with the market leaders
To make that happen, what my strategy should look like
Which platforms I should target, why, and how
The features that my app must have, not have, and may add later
What my marketing strategy is to highlight my app in a way that gains the attraction needed to start off
Such detailed planning can help you plan and discuss your app development requirements better. Like, we have this practice which we discuss the market and users' needs and competitors with every client before we finalize the flow. This step ensures clients don't go wrong at any point during planning and monetizing their mobile app.
You can either do this entirely or have your app development company assist you.
2) Building MVP
If you've done your research and analysis appropriately, you know which mobile app features you want in your app and when.
You can consider building an MVP initially and think of adding other features once it's rolled out.
So, mobile app development costs are cut down to a huge number. The app updates can happen slowly and gradually.
3) Going for Cross-platform app development
Rather than building completely native Android or iOS apps, go for cross-platform apps. As we discussed above, cross-platform app development, coding once done, is used to create both Android and iOS apps with minor code differences.
So, you get two mobile apps developed at the cost of one. Completely a smart move here!
Flutter or React Native? Two cross-platform app development frameworks are competing to build the best Android and IOS apps for you
Click Here To Find Out The Winner
4) Choosing the same agency for design and development
Say, for example, you select different agencies for both design and development. The ideation, process, approach, strategy, and execution would differ to a greater extent.
Even the mindsets won't match when it comes to combining the design with the code. Also, when you have one agency doing both design and development, the quality goes supreme, and the cost goes down drastically.
Management and communication remain hassle-free, which is a plus here.
5) Avoiding code snippets
Code snippets are quite a technical term used for the pre-made code for some functionality. Generally, they are built considering the standard requirements. But, your app development agencies have to modify them if they're not supported for your mobile app.
So, you end up paying for code snippets and also the team who is working on your app. Avoid using code snippets and save some costs there as well.
6) Using up-to-date OSes and device models
If the operating systems (OS) and device models that your app supports are not up-to-date, you are more likely to pay for huge app updates and even maintenance.
Make sure you update all your legacy systems as well because already, the new devices have stopped supporting older versions of operating systems.
7) Choosing open-source frameworks
We mostly work with financial institutes, healthcare organizations, and startups building on-demand apps. The apps they want to make cannot have open-source frameworks because their requirements are super high and complex for which we need to work on mature ones. And, that's the reason why we don't suggest this to them.
But, if you are not from such industries and want to cut costs, then choosing open-source frameworks is another way to save some bucks.
Pay for an app that's worthy of your investment
Mobile apps are an investment to improve customer acquisition and build loyalty. That's the reason why it is important to bifurcate where and how much you're spending.
Here in this guide to understand how much it costs to develop a mobile app, we have tried covering all the areas that affect your budget as per your business objectives.
Make sure you choose the right minds that make your investment worth investing in for your business.
Allow our experts to jot down your app development costing as per your industry, competition, and user needs. Get ready for a frank and open conversation with no surprises.