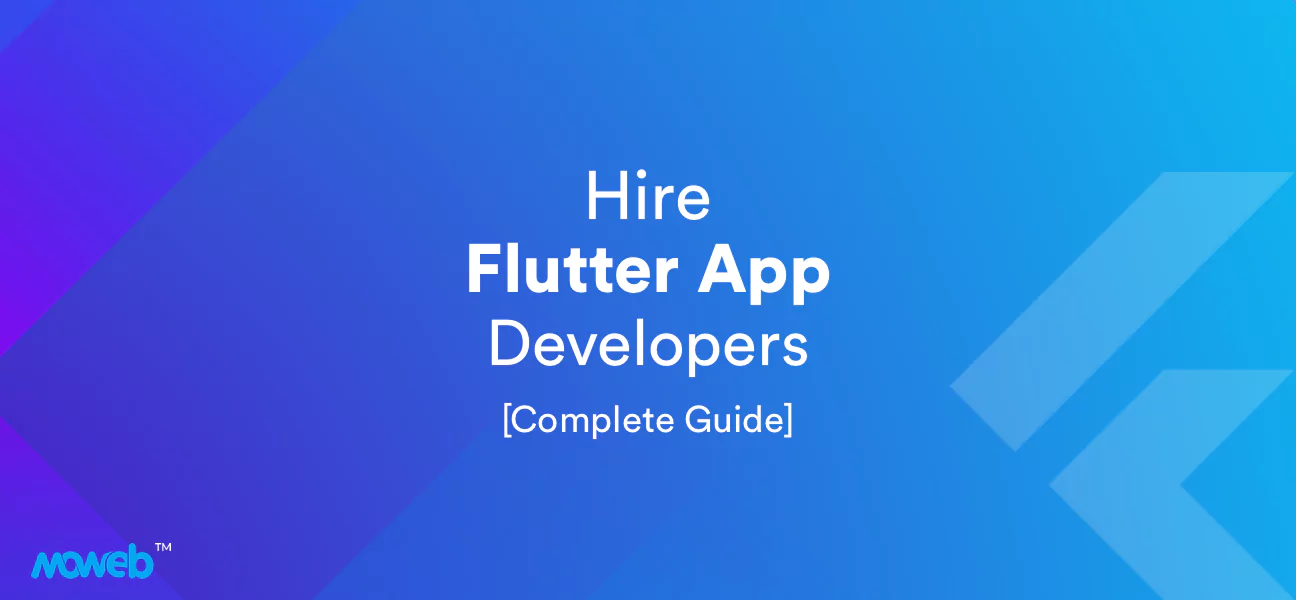 Initially released in December 2018, Flutter – A Google's framework got the attention of big-shot companies and app developers. By mid-July 2020, Flutter app development had become the talk of the town.
According to the StackOverflow Survey, Flutter is gaining popularity among the developers and is the third most popular and loved framework to build mobile apps.
With the rapidly changing market trends, business owners and decision-makers often look for quicker yet flexible mobile app solutions. The cut-throat and highly competitive market attracts a lot of startups and entrepreneurs to launch their apps fast so as to gain the maximum advantage. Flutter platform offers a complete UI kit to build high-scale and flexible mobile apps with the best icons, typography, and scrolling behaviors. This robust yet flexible framework allows app developers to create a full-fledged cross-platform mobile app that not only saves time but reduces development costs to a great extent.
Backed with large community support and assistance, Flutter mobile developers can reach out to the community and get maximum support during Flutter mobile development.
With the myriad of benefits flutter has to offer, the question that arises is:
How to hire Flutter developers and not regret it later?
To answer this, we've created a full guide to discuss the flutter app developers' aspects. Here, you'll find all the important aspects including developers' responsibilities, type of developers, hourly rates, and cost to hire flutter developers. Additionally, this blog covers possible hiring options, the hiring process, and interview questions to help you hire skilled Flutter app developers.
Say Hello to Flutter Development!
Flutter is an open-source app software development kit developed to build highly efficient and reliable applications for Android, iOS web, and desktop using a single code base.
To be precise, Flutter is:
Open source and free to use
Developed and supported by Google back in December 2018 after keeping its Beta version for more than 15 months.
One of the most preferred choices by developers of the leading mobile app development companies for cross-platform app development.
Highly robust since it compiles native apps that no longer rely on JavaScript bridges.
It's a Hassle-free. The code is written once and is compiled into a web view for various browsers, iPhone, and Android applications.
What are the roles and responsibilities of the Flutter app developers?
If you're looking to hire Flutter app developers, they need to be proficient in the below-mentioned roles and responsibilities:
Designing and developing simple and complex applications
Practicing clean code
Make sure to follow the Flutter app development lifecycle
Fixing errors, bugs, and glitches if any
Investigating and incorporating better technologies for the swift development process
Follow new development trends.
What questions need to be asked when you hire Flutter app developers?
To be successful as a specialist, Flutter app developers should have a combination of both hard and soft skills.
Hard skills are quite essential for the job. App developers require extensive framework knowledge to build complex and challenging applications using the Flutter framework. Such skills are listed in the job description.
Apart from this, developers can gain technical knowledge through online training, courses, job internships, and so on.
Some of the questions asked in the interview to hire flutter app developers in 2023 are:
What is your experience with mobile app development?
Do you have prior experience with the Flutter framework?
Could you please share your Flutter app portfolio?
Do you have any proof of your experience?
What's your experience with the Dart programming language?
Are any of your Flutter apps available in the App or Play Store for download?
In order to cooperate and work with the team efficiently, flutter app developers should have soft skills such as teamwork, creativity, communication skills, work management, dedication, conflict management, etc.
Types of developers; Where to hire flutter developers?
Now that you're convinced to hire Flutter app developers, the market offers you the three best alternatives to identify and hire the best resources. With exclusive platforms available to hire developers across the globe, you've got an amazing chance to hire either of these three: hire skilled freelance flutter developers, a professional in-house flutter developer/development team, or a reliable flutter app development company.
While each option comes with its perks and limitations, let's find out how these alternatives will suit your requirements.
1) Freelancers
Benefits:
With the rise of freelancing platforms, it becomes easy to hire the right talent at a minimal cost.
Freelance flutter developers are a low-cost option as compared to the other alternatives.
You just need to pay them on either an hourly basis or a fixed cost price for a certain assigned task.
You can hire a specialized talent for a particular project or assignment.
Drawbacks:
Since they work remotely without any kind of supervision, the guarantee for the project deadline seems blurred.
Coordination with multiple teams like UI/UX, QA, etc. becomes hard.
It's challenging to communicate with the developers if they're from different time zones and languages.
Platforms to find freelance developers:
Peopleperhour
Freelancer
Guru
Fiverr
2) In-house development team
Benefits:
When your app is already completed and launched, it's good to hire an in-house team for further improvements and updates.
The whole team can dedicatedly work on a single project that enhances product quality and deliverables.
It lets you customize the entire development project with minor or major tech needs.
Easy coordination between the design, development, and QA team.
Drawbacks:
Hiring skilled and advanced in-house teams is a highly expensive and time-consuming process.
You may need to pay developers even though you don't have enough tasks for them.
In-house developers are usually high on the salary part as compared to freelance developers.
There might be an increase in overall company expenditure since they need to bear expenses such as buying new hardware, software, internet expenses, electricity bills, etc.
Platforms to hire in-house developers:
LinkedIn
Glassdoor
Dice
Indeed
3) Outsourcing companies
Benefits:
It eliminates the need for any specialist developer in difficult times.
Timely project delivery without any glitches.
Such companies usually work on a contract basis. It removes the headache of paying on a monthly basis.
Drawbacks:
Communication can be a problem with some developers speaking the regional language but it can be solved with a strong and all-rounder project manager.
Needs to schedule calls sometimes due to differences in time zone.
Platforms to Hire Outsourcing Companies:
Clutch
GoodFirms
IT Firms
GlassDoor
How to hire the right flutter app development company for your project success?
It's quite obvious that every firm cannot provide the best-fit solution for flutter app development. Thus, to help you make the best selection, we have listed some must-haves to hire a Flutter app development company.
Look for verified reviews, client testimonials, and case studies to understand the firm and how good fit it will be for your solutions.
View previous examples of the Flutter mobile app the firm has produced.
The firm should be willing to authentic collaborations with a clear vision of the client's goals and requirements.
Evaluate the firm before hiring. Ask them if they're willing to associate for the long term as it is crucial for you to maintain a healthy relationship with your flutter app development partner as long as your app is in the market.
What about the Flutter developer's hourly rates?
The rates to hire flutter app developers in 2023 vary countrywide. Generally, developers prefer to work over hourly rates. However, that can vary based on the below factors.
Hiring options (Freelance, In-house, Outsource)
Qualifications (Junior, Mid-level, Senior)
Regions.
Below are some of the estimates of flutter developers' hourly rates as per their region, hiring options, and qualifications.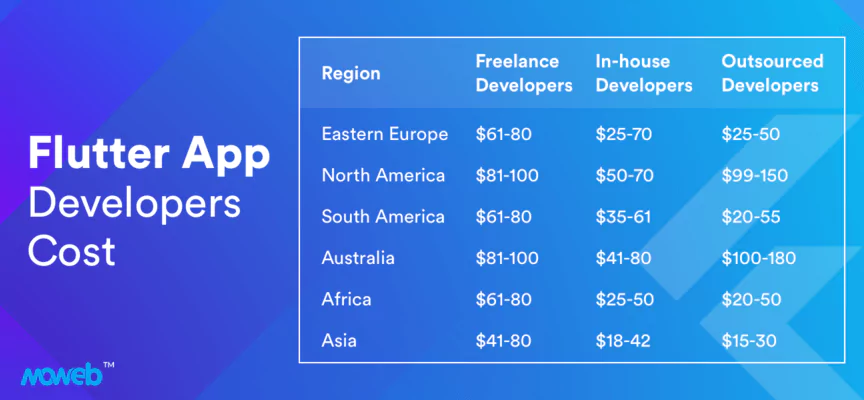 Why hire flutter app developers from Moweb?
Our developers claim that flutter app development is the best go for the below industries:
Shopping apps
Food apps
Fitness apps
Dating apps
Marketplaces
Social media apps
So, if you wish to create your own flutter app, just drop us your details and our sales executive will get back to you with detailed estimations.
Let's create your Flutter app!
Ready to hire a Flutter developer?
Now the ball is in your court. We've tried to gather the best information to help you ease out with the hiring process. However, we would suggest that if you're planning to start up a software development company, hiring an in-house flutter development team would serve your purpose.
If you're a business or an established enterprise and want to expand your existing team, outsourcing a Flutter app development company would be a good choice. If you need any further guidance or want to consult a flutter company on an emergency basis, you can get in touch with us now.