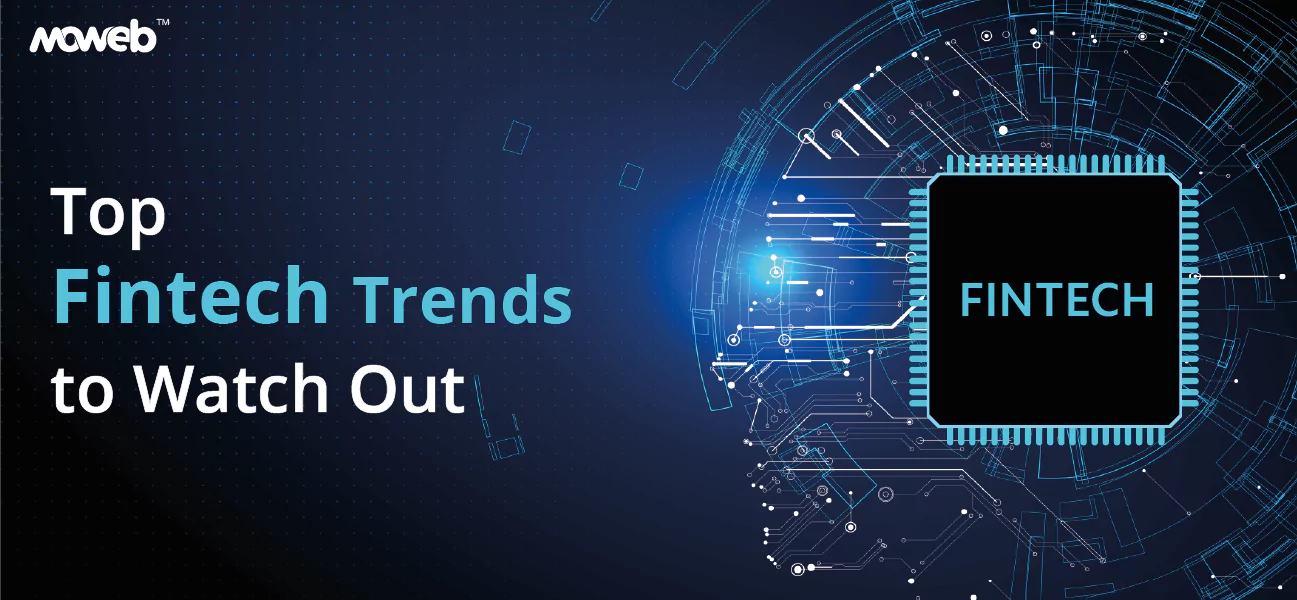 The fintech industry is the place where it is inevitable to stay updated. Around 10,000+ fintech startups are thriving globally by offering fintech-as-a-service and the number is gradually increasing. It has become a major "disruptor" that influences every market and sector that it belongs to. The advent of internet concepts and tools backed with technologies like Big data, AI, Machine learning, Cryptocurrency, Blockchain, and more is changing fintech market trends.
According to Goldman Sachs, the fintech industry is now worth $4.7tn.
As time passes, we're encountering drastic changes in the fintech industry. And these transformations impact almost everything – payments, money, and banking. Today, businesses, startups, and companies associated with fintech solutions are realizing the importance and value that it brings with implementation. In the past few years, we've seen fintech trends entering new paths and assisting people and consumers to solve various concerns in business and lifestyle. And the same is anticipated this year. The demand for fintech solutions has never been so intense – And that makes 2023 a crucial year for evolving the fintech industry in multiple domains.
In this blog, we've scrutinized and hand-picked a list of top fintech trends in 2023. These biggest trends in the fintech industry are expected to continue in this year and beyond. Let's find out what these trends are and how they will create a positive impact in business.
What is Fintech?
The term fintech refers to software and other modern technologies used by businesses to provide streamlined, automated, and improved financial aka banking services to businesses and enterprises globally. It is backed by the implementation of the technologies like Artificial intelligence, blockchain, biometrics, eCommerce, and more.
It is not a piece of software. Albeit, it's a fintech solution that makes banking services smart and easy. It makes businesses more efficient enough to interact with customers or employees with a consolidated ERP solution.
Last but not least – The financial service technology trends create a new revenue stream. Selling products and services online, accepting digitized payment globally in any form that is legal and convenient for the parties involved – This is what fintech technology is setting up.
As per the deVere Group research, the Covid-19 pandemic has caused a 72% of the massive rise in fintech apps in Europe.
As per the latest reports, Fintech is now witnessed as a new normal by 73% of the Americans.
Aren't these findings interesting? With the introduction of cutting-edge technologies, the fintech sector is expanding more rapidly. Let's find out what are the latest trends in the fintech industry to consider in 2023.
What are the current fintech industry trends evolving in 2023 and beyond?
1) Digital-only Banking
Digital-only banking is the new-age bank that provides financial services to its customers without having any physical presence of the bank anywhere. It provides virtual banking services like international remittance, buying cryptocurrencies like bitcoin and Ethereum, P2P transfers, contactless Mastercard with no transaction fees, and more.
A digital-only bank has no license on its own and is operated under an accredited banking partner for the licensed services. Such a banking system has gained immense popularity since it offers its customers convenience by eliminating paperwork and standing in a long queues to get things done.
Digital-only banks are expected to see a huge surge in 2021. Reports claim that there will be a significant (36%) drop to visit physical banks from the year 2017 to 2022 due to digital-only banks.
2) Voice Assistant or Voice Payments
AI-powered voice technology has evolved not just to inform weather forecasts or to simply play songs but to also improve and enhance the customer experience in the banking sector. Voice assistance can act as an automated support agent to perform rigorous tasks like replying to typical clients' questions, providing basic account and card balance data, scheduling and categorizing calls, setting up recurring payments, and whatnot! Furthermore, the customer's voice can be used as biometric data to initiate a payment (also known as Voice payments) which soothes consumers.
The potential of voice payments is sky-high – right from transferring funds between accounts to sending money to friends from platforms like PayPal. The only concern is the trust level of consumers that emerges from concerns of a security breach.
3) RegTech
RegTech is an abbreviation for regulatory technology. It enables companies to leverage advanced software solutions that simplify the compliance process with existing laws and regulations. All these solutions can be divided into identity management, transaction monitoring, risk management, and compliance software. Technically speaking, these automated RegTech solutions are programmed in a way that they can learn from the patterns of the large historical data volume. These gigantic volumes of regulation requirements are automated and backed by Big data and machine learning language.
The implementation of RegTech can drastically reduce administration overhead, ensure financial stability and protect customers.
Fintech Industry Project "M-vendr" Case Study
Read Case Study
4) Increasing usage of AI and ML
Today, banks across the world are looking forward to implementing AI in their business operations. As per the latest research, the implementation of Artificial intelligence backed with RPA is expected to reduce bank operational expenses by 22% by 2030. In other words, banks can save $1 trillion by integrating Artificial intelligence.
In 2023, fintech applications may continue to utilize AI and machine learning in autonomous finances to save users' money by helping them to take instant decisions about their money investments, chatbots to address customer queries, and manage cybercrimes by identifying financial frauds. The robotic process automation integrated with AI can also be used to automate backend processes like security checks, customer onboarding, and more.
5) Blockchain Technology
Blockchain technology has managed to transform the way the fintech industry works. This cutting-edge technology has made transactions entirely safe and secure. Banking and financial institutions are adopting this technology to leverage its benefits in business.
As per the latest reports from Business Insider intelligence, 48% of banking representative thinks that blockchain technology will have a greater impact on banking sector in 2021.
In the blockchain, Once the data is recorded, it becomes extremely difficult to alter it. Its cross-border payment system makes the payment credential and information highly secured. Its decentralized payment system has inspired many P2P financial platforms to perform monetary transactions and thus enhance their investments.
6) Open Banking
Open banking is another revolutionary technology that brings banks and fintech together by managing data networking across financial institutions. It is related to PSD2 (second payment service directive) that forces banks to release data standard format to make sharing information easier between the organizations digitally. Powered with AI technology and various third-party APIs, it controls consumer banking following financial information.
The report states that Open banking generated $29 billion in 2018 and is expected to reach $43.15 billion by 2026.
Open banking partnerships will help customers to manage their finances more easily by leveraging an integrated view of their accounts in a single place. Open banking products will encourage better financial decisions, long-term wealth generation, and lower debt ratio.
7) Financial Literacy
As embedded finance programs are growing at an unmatched rate, the need to educate financial literacy arises.
According to Investment News, 57% of the USA adults are financially literate.
If you've noticed, the younger population has less success in savings and higher finance-related stress. Even the fintech companies that constantly deal with debt data, regular payments, bills, spending behavior data also admit that majority of their customers are not good with their money management. So, can we alter such reckless behavior? Yes! By embedding advanced financial literacy solutions (application) as prompts in a basic banking application. It will provide financial literacy skills will give over-spending warnings, savings, and investment suggestions, and will gradually change the customer behavior to interact with money more healthily. Applications like Zogo, Penny, Investmate are great examples. It will promote greater customer satisfaction with minimum effort.
Pandemic Proof Banking – The Challenge Ahead
Though it is less like a trend and more like a necessity nowadays. The Covid-19 pandemic has cropped up huge problems. With that said, another biggest challenge for the fintech industry is to develop robust, secured, and pandemic-proof banking solutions.
Conclusion
As we move ahead in the year 2023, we will notice how the above trends are making financial services better. So, to thrive and not get lag behind, listen to your clients and earn their trust by offering transparent and seamless experiences. You need to respect their privacy and constantly be aligned with industry trends. So, if you're someone who wants to take advantage of these trends, offer the consumer a simple, easy, and convenient way to manage finances. Talk with our mobile app development experts to build a robust yet simple financial app for your business.